I'm not even kidding when I say this last week has been a whirlwind of keeping up with my daughters' schedules. I have tried to keep the girls active this summer so they are not just sitting around letting the TV or video games entertain them. I really try to limit the intake of electronics with them. So in return, that makes for a busy schedule for dear ole mom here.
About two weeks ago, I received an email about The Busy Body Book. I was so excited to get this in the mail to review as I knew, I would need something to keep my head on straight. For everyone that knows Jen, I am very forgetful and honestly if I my head was not attached, I would loose it ;).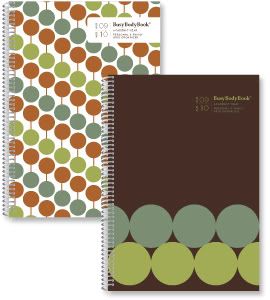 What I like best about the Busy Body Book, is that it lets me keep up with schedules for our entire family.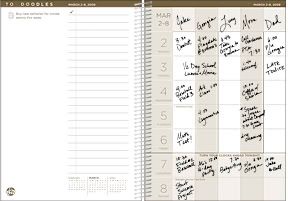 I put each of our names at the top of the pages and write down where and when we need to be each and everyday. Let me just tell you about our schedule last week for Big Sis.
3:00 to 3:45 – Summer Reading Program at the Library
4:00 to 5:00 – Swim Lessons
5:00 to 5:50 – Clogging Lessons
6:00 to 8:30 – Vacation Bible School
My head was just spinning of trying to get from one destination to the next in a timely manner. I would open the busy body book, see where I am suppose to be going and then floor it to our next stop ;).
Also since I work at home, it keeps me so organized of what client work I have to do for that day. I call this my own little personal diary because it keeps me so much more sane and actually organized. You have to face it moms, as our kids get older, our schedules are getting busier. If we do not begin to write things down more, we are going to drive ourselves crazy and get even more gray hair ;).
The Busy Body Book is so versatile too. You can use the columns to meal plan, track blogging projects, make personal goals, household chores, volunteer schedule and family holiday planning. The uses are endless.
The Busy Body Book comes in Weekly GRID of 5 column and  the undated 7 column GRID. I want to give one of you moms an opportunity to get more organized in your life too. Busy Body Book has agreed to giveaway one item of your choice from their site.  Here is what you do:
1) Go to their site Busy Body Book – pick out what item you would like
2) Leave a comment below to enter
3) Subscribe to our feed, twitter this contest, facebook this contest all for extra entries. Leave a separate comment below for each extra entry!
Good Luck… Let's get organized together!