During this holiday season, I want to make sure we are all remembering the reason for the season… Jesus :). I try to instill this in my girls and two separate events in the past week has assured me… I must be doing something right!
M came home last week with all her Thanksgiving projects she had done at school.  One of the projects brought tears to my eyes. I'll post a picture here: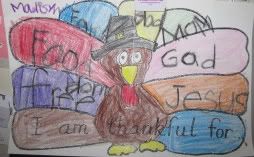 Look at all she is thankful for! I had to show this off to everyone in our family. I have always said she is such an old soul and really cares so much for others. She is thankful for Family, Dad, Mom, God, Jesus, Freedom, Home and Food. Is that not awesome? There are no material things listed and that just warms my heart so much.
Then, this leads me to this past weekend. I was creating all my lists for my family this year for Christmas. I asked L what she would like for Christmas this year. She sat there for a minute and put her little fingers on her chin, like she was thinking. She said ummm… then said I know Mommy. All I want for Christmas this year is for daddy to love me, mommy to love me, my sister to love me and my doggy to love me. Oh I just swooped her right up and hugged her so tight. There was not one item she could tell me she wanted… all she wants is love. Is that now just the coolest thing?
I love my girls so much and often wonder if I am doing a good job at this mommy gig… but I think I couldn't receive a more better answer than this do you?
So remember as we go into this wonderful Holiday Season, its not all about the money. It's all about the thought and love!