*Disclosure: We were able to experience our first MLB game thanks to ScoreBig.com for sponsoring our family of four.

I have heard of ScoreBig.com but I never knew how it really worked. This can be put to rest as I was given the opportunity last month to check out the website and go through the entire process. Needless to say, I don't think I will ever pay full-price for tickets anymore.
The process is so easy. Go to ScoreBig.com and select your city and the event you want to attend. We had never been to a Major League Baseball game so our choice was to attend an Atlanta Braves game on a Friday night. The tickets for two-star seats averaged around $42. I put in our bid for four seats of $30. The bid was accepted. Your credit card will not be charged unless your bid is accepted. We saved almost $50 by going through ScoreBig.com for our tickets. I wasn't quite sure if our seats would be the best but we couldn't have asked for better seats. We were seated right on the field behind the third baseman. Perfect view to see the entire field.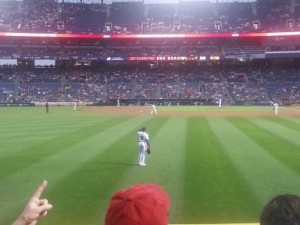 You never have to worry if your seats will not be together as all seats ordered together will be next to each other. Also, you are guaranteed to save on each and every ticket on ScoreBig.com.
Our family made great memories and it was so fun to see the girls and my husband get so involved with the game, including the "chop."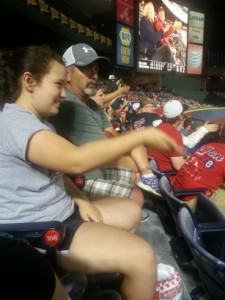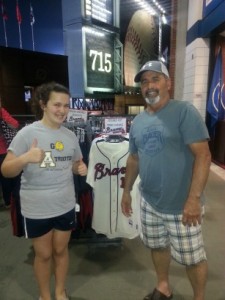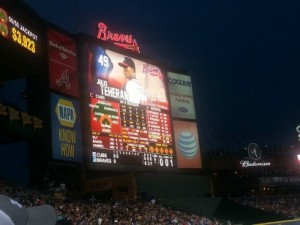 The game ended up going into an extra inning. The entire stadium was filled with so much great energy. It was such an amazing way to experience our first major league baseball game. The Braves ended up winning the game and the crowd indeed went wild as the fireworks exploded over the stadium. It was very neat to see all the games for audience members after every inning.
What types of events do ScoreBig.com have available? There are tickets for sports, concerts, theater, Broadway, family shows, and attractions. Another perk is you never pay a "fee" for your tickets that you will experience at places such as Ticket Master.
Thankful to have found and experienced this option. Can't wait to book our tickets for our next family event.