Let's tell the truth. Do you scream when you are trying to get a point across to your kids? In other words, do you ever have this look?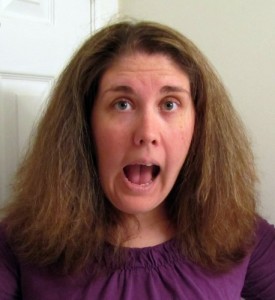 I will hang my head in shame now. This is one of those parenting moments that I am not very proud of. Let's set the stage…
Mom takes a few minutes away and makes a mad dash into the shower. She goes through the shower in record speed before the kids barge into the bathroom needing wanting something. Then as she is stepping out of the shower she hears a noise that is not too pleasant. The sound of something spilling onto the floor. The bathroom door is opened immediately and a blue-eyed little girl is looking at you with the puppy dog face surrounded by hundreds of goldfish. Yes, the goldfish that you just happened to buy from Sam's only two days ago.
Queue the orchestra….
L, WHAT ARE YOU THINKING? WHY DID YOU NOT ASK MOMMY OR DADDY FOR HELP? I JUST BOUGHT THOSE GOLDFISH TWO DAYS AGO. MONEY DOES NOT GROW ON TREES YOU KNOW. THIS IS NOT THE FIRST TIME THAT THIS HAS HAPPENED LITTLE GIRL. WHAT IS IT GOING TO TAKE FOR YOU TO LISTEN TO WHAT MOMMY SAYS?
Sad little puppy dog face L looks up to you with tears in her eyes. Mommy, I love you. You were taking a shower and I did not want to bother you. And… the guilt fills your heart. Of course, she was giving mommy alone time and trying to just get a simple snack. I really feel very small right now!
Please tell me that I am not the only screaming mom? I debated all evening whether this screaming is hereditary? My mom screamed, her mom screamed and I am sure her mom screamed. We are creating a domino effect and I want the last domino to fall and start a new effect.
Surely, I can get the same point across without yelling right? Sigh…