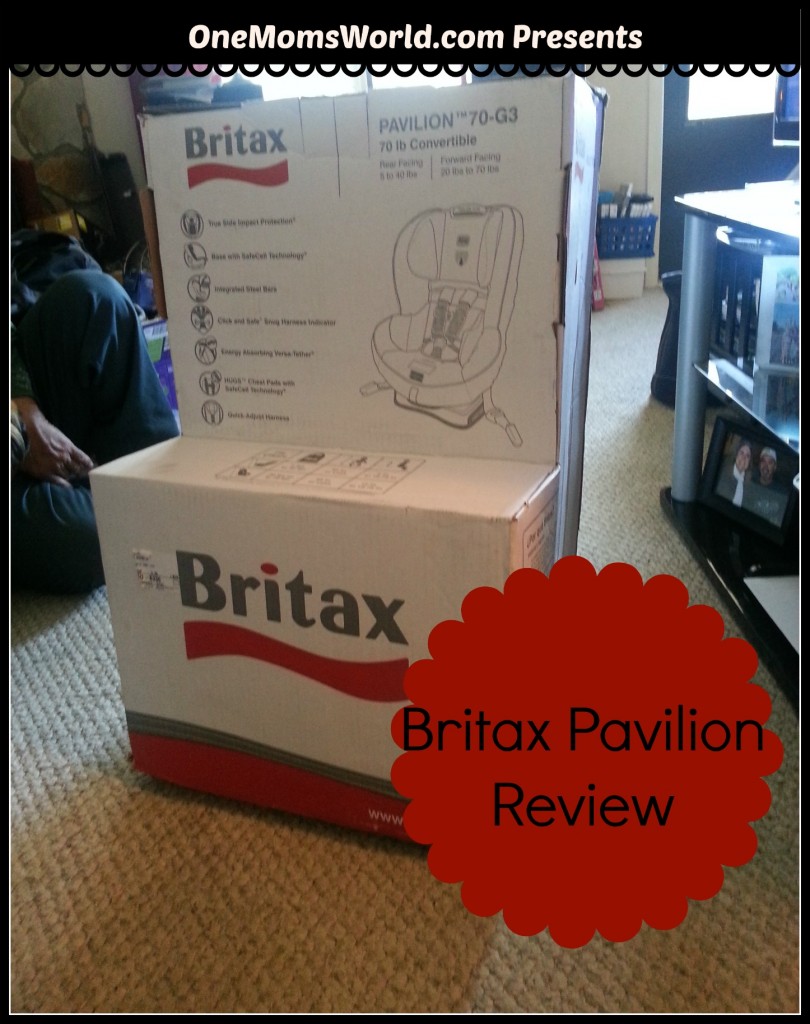 Recently, this beautiful box showed up on our front porch. To say we were ecstatic is an understatement. Jackson is growing by leaps and bounds and needed a new car seat quick. The timing of this review could not have been at a better time.
We immediately placed Jackson in the car seat.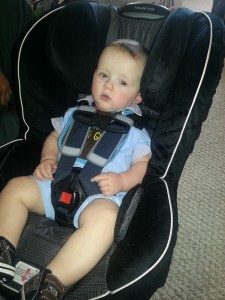 Cue the tears as I was not ready for the big boy look. He fit perfectly into the car seat. It was time to place the car seat in my stepdaughter's car. My husband helped her with the insert and both agreed that it was not bad at all to insert the car seat. Take a minute and check out this review from my stepdaughter after using the car seat for a month. She gives details on the features she is enjoying on the car seat.
As you can tell from the video, she is very happy with how safe the car seat is keeping Jackson. Jackson is really enjoying his new view since he can see out the window.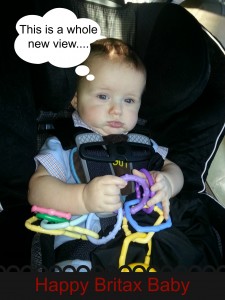 Let's recap some of the product features
Two new features with the Britax Pavilion 70-G3:
1. HUGS Chest Pads with SafeCell Technology are affixed to the seat shell to ensure proper positioning while SafeCells compress to manage energy and provide resistance to the forward movement of your child in a crash, reducing the risk of head injury
2. EZ-Buckle System retains the harness buckle in a forward position and prevents the child from sitting on the buckle when boarding
– Energy-Absorbing Versa-Tether features a staged-release tether webbing to slow the forward movement, reducing the crash forces reaching the child, and a two-point attachment to minimize forward rotation while anchoring the top of the child seat
– Click & Safe® Snug Harness Indicator is an audible aid that provides extra assurance when the harness is within range of appropriate snugness
– Tangle-Free, Five-Point Harness distributes crash forces across the strongest parts of the body and provides a secure fit
– 70-pound Weight Capacity for safety and comfort as your child grows
– Rear and Forward Facing Recline for child comfort and positioning
– High Density Comfort Foam provides an extra layer of padding to gently cushion your child
– Plush, Easy-Remove Cover with matching comfort pads and infant body pillow to provide extra comfort and easy cleaning without disassembling or uninstalling the child seat
– Two Buckle Positions offer a snug and secure fit for your growing child
Overall, this is the best convertible car seat that I have ever seen and had to deal with in my years of being a parent. The girls convertible car seat did not have all of these features and I remember their straps always getting twisted. It would drive my husband and I crazy each time we were putting the girls in their car seats.
Every time you click your child in their car seat, you want the comfort of knowing that your child will be safe in case of anything ever happening while you are driving. The Britax Pavilion 70-G3 gives you that peace of mind.
Disclosure: We were provided the above car seat in order to facilitate our review. All thoughts and opinions are of our own.