My sweet L, is excited for this day. She loves our two doggies so much. We are one big pet loving family!
In celebration of the world-renowned pet holiday 'Dress-Up Your Pet Day,' Twentieth Century Fox Home Entertainment and Air Bud Entertainment, announced that the hilarious and heartwarming pet-filled, family adventure RUSSELL MADNESS, will make its Blu-ray™, DVD and Digital HD debut, on March 10, 2015 . The action-packed family feature's home entertainment release follows a February debut in theatres as part of the Fandango Family Screening Series Fandango.com/RussellMadness.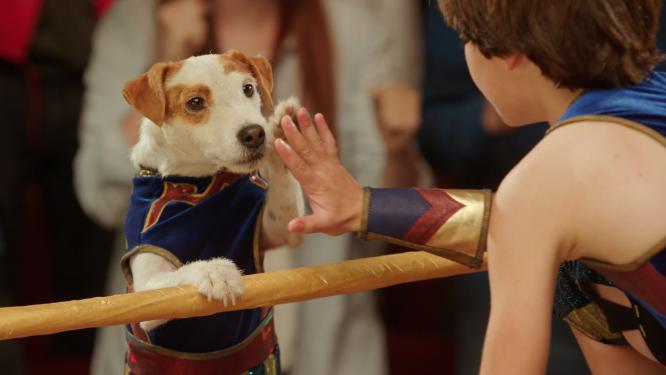 RUSSELL MADNESS is produced by Air Bud Entertainment, the creative force behind the #1 live-action, direct-to-video movies in the family category. The exciting, action-packed adventure introduces 'Russell,' a talking (and costume-wearing) Jack Russell Terrier who accidentally becomes a professional wrestling superstar, on the way to discovering the true power…of family.
RUSSELL MADNESS tells the story of Russell, an undersized but big-hearted terrier who dreams of having a family of his own. After running away from his current pet store residence, Russell gets taken in by The Ferraros, a family desperate to revive their grandfather's pro wrestling arena. That's when they discover their new pet pooch has incredible wrestling skills. With help from his coach, Hunk, a savvy and hilarious monkey, Russell rockets to the top of the pro wrestling world and becomes a famous sports superstar. But when a dishonest promoter double-crosses the Ferraros, Russell will face his biggest challenge and discover that the strongest tag team is family. RUSSELL MADNESS is rated 'PG' by the Motion Picture Association of America (MPAA).
Stay connected with the latest news and information on RUSSELL MADNESS and 'Air Bud Entertainment'
at
http://www.airbud.com/russellmadness
● "Like" them on Facebook at
http://www.facebook.com/RussellMadness