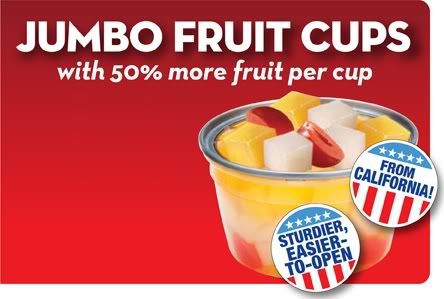 Let's set the stage. You go in your cabinet and grab a fruit cup. You have really been craving fruit so much so seeing that fruit just makes you so happy BUT you cannot get the top peeled back. It is being so stubborn, you keep fighting with it, your taste buds just keep swelling because your eyes are seeing the fruit, but your mouth is not tasting it! AHHHHH. Libby's Fruit Cup to the rescue. You all, I am not even kidding when I say this was the easiest fruit cup EVER to open.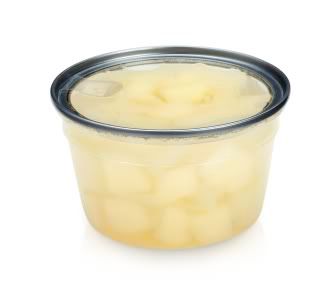 It peels back so smoothly and you do not have to sit there and tug at it. Also, get this…. since the rim on the top of the fruit cup is raised… you will not get ANY fruit juice on your favorite shirt or jeans! Does that not rock? :).
In stores beginning September, Libby's Jumbo Cups™ are packaged in 3-pack sleeves and available in four delicious varieties: Diced Peaches, Diced Pears, Mixed Fruit and Cherry Mixed Fruit, at an approximate retail price of $3.39.
I love that each cup provides 50% more than all the other fruit cups on the market at the grocery store. I love fruit so much and cannot go a day without eating it, but the 4 oz cups just do not satisfy my craving for fruit. You really have to try these. I have been so impressed with them and been counting down the days to September so I can go out and stock up on more! You can visit Fruitification.com for more information on these neat fruit cups.
Guess what? One winner will win (8) Libby's fruit cups – 2 of each variety. Just leave a comment below and tell me your favorite fruit. I will pick one randon winner through random.org. Contest ends September 9 11:59pm EST.
For extra entries tweet and facebook this contest. Leave a comment for each entry!
Disclosure: Libby's did provide me the fruit cups for me to review, but I was in no way paid to write my review. This review comes from my heart and I will only tell you how I really feel :).