I have been counting down the days till the girls are on Spring Break. For one, I love having them home with me, and two, we all love to sleep in. No waking up at 6:30 for 7 whole days. This will be sweet. Unfortunately, that is not how our Spring Break started. How about waking up every hour on the hour? Yes, my precious M either got hit with a mean stomach virus or her body had a sugar overload from Easter activities. I am not sure which, but her little body was drained. She started at 9:30 last night and I would get her cleaned up, sheets washed and finally get back in bed for an hour… only to have to start all over again. I was getting worried but by 9:30 this morning, we were seeing light at the end of the tunnel. She slept till 11:30 and then was asleep by 7:30 tonight
We did manage a few activities today. I knew we needed to get out of this house and get the windows up. Hubby was already cleaning hard while I was making sure to get in all my work hours in today.
Our sweet little Kingston received an over-due haircut.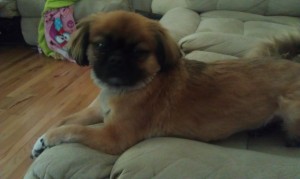 Afterwards, we made our way to the town park. The girls did different activities such as play in the sand, stand on the balance beam, swing and etc. while I did a rapid 2 mile walk.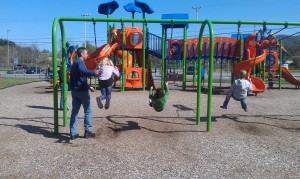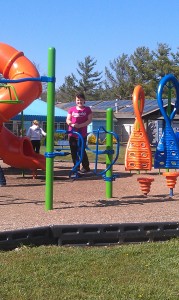 It was just enough time to get the girls out in the beautiful weather while mommy could get in some much needed exercise. I have a feeling we will be making daily trips to the park this week.
Hubby has a daddy/daughter breakfast planned for them. I have a few crafts lined up. We have a movie date planned. If the weather can continue to be nice, I would love to do a picnic outside with them. We can include some softball and frisbee fun in the mix. Hopefully the rest of their Spring Break will be enjoyable and one they will remember for a long time.
How was your Spring Break?