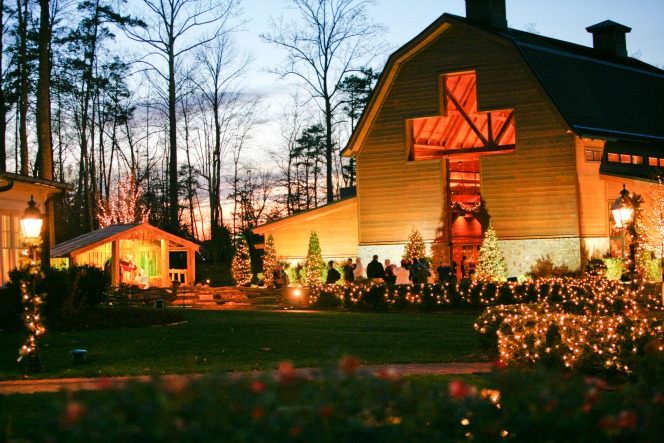 From now until December 23, 2013,  you and your family can enjoy a wonderful Christmas tradition.
Beginning at 5:00 pm each day, you will see the beautiful Billy Graham Library all decorated for Christmas. Your family can enjoy the live nativity scene that offers a glimpse into the first Christmas. The children adore the live animals and it is an opportunity to share how life was at the inn. You can arrive early between noon and 2:00pm to pet the animals.
Enjoy horse-drawn carriage rides ($7 for adults, $3 for children 12 and under) through beautiful light displays. (Begins at 5 p.m.) Listen to heartwarming sounds of joyful carolers and festive Christmas music and a delightful story time with the kids.
Christmas shopping at Ruth's Attic with unique and meaningful gifts including exclusive Library ornaments. Holiday goodies, including Mother Graham's pound cake, cinnamon rolls, pumpkin rolls hot apple cider and more on sale in the Dairy Bar.
Did you know that the Christmas at the Library was named one of the Top 100 Events in the U.S. by the American Bus Association (ABA) and a Top 20 event by the Southeast Tourism Society? It really is a complete Christmas joy and a must-visit during the Christmas season.
Parking is $10 per car after 3:00 pm. That is a small price to pay for a wonderful family Christmas-filled evening. For more information and directions, visit their website.