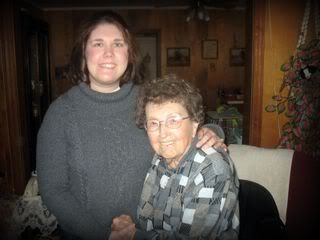 It is no secret that my 95 year old grandmother is my best buddy. I am her youngest grandchild and we have always been super close. I even spent my summers as a little girl at her house way up in the country with no stores very near. I didn't care, because I was with my grandma.
When I got the call this week that she has multiple blood clots in her legs and they could easily go to her heart before they can do the surgery needed next week, I just lost it. There is no way I can lose my grandma. I immediately dropped work for the day and spent all day with her Friday and then went back down there today and spent most of the day with her today.
She is very independent and still cooks all her meals, cleans her house, does her laundry etc. You get the picture. So when she was told she needs to stay seated with feet propped up, you can only imagine how that went ;).
So we are all trying our best to make sure she does this very thing. I told her Friday when we were hugging and face to face. I said grandma, "you know you light up mine and the girls' life. We cannot lose you, you have to stay off your feet. I love you so much and not ready to say goodbye anytime soon." She said "I know Jennifer, but it is just hard to sit still. I like to be doing something all the time." I had tears… that is just my grandma.
When I left that day, she kept watching me as I drove away down the road. The tears were falling so much down my face. I so did not want this to be the last time I said goodbye to her. It wasn't 🙂 and I was so happy to be with her today.
She is a big prayer warrior and I ask the moms blogging community to join me in prayers this week that she will be ok and the doctors will be able to get rid of the infection in her legs and the blood clots. Thank you so much.
Grandma… I LOVE YOU SOOO MUCH. You are an inspiration to all.
Love,
Your youngest Grandaughter