Madisyn has been looking forward to this for two weeks now. She would ask everyday it if was time to go hehe ;).
Her eyes just lit up when she got to see Thomas. It was definitely a priceless moment.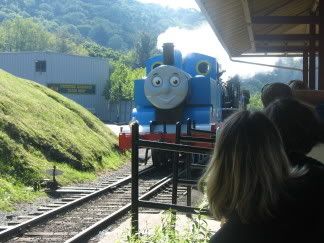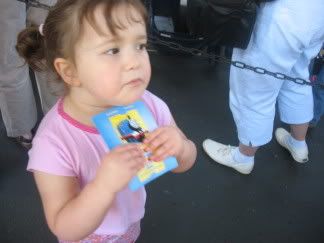 We started out the day with the train ride. Lyndsee wasn't too sure of the ride but Madisyn had a smile through the whole ride. She LOVED it.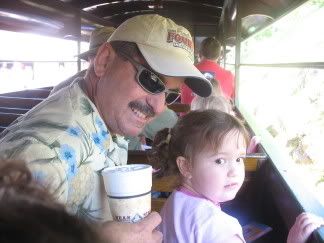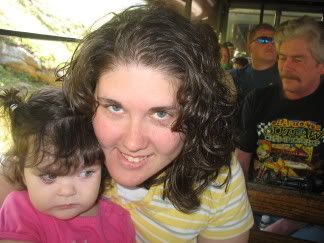 After the train ride we made our way to the gift shop and got the girls some gifts and got to visit with Sir Topam Hat. That was neat. Madisyn didn't want to go near him, just wave from a distance ;).
On to the wild and crazy rides. Madisyn has definitely got braver. She rode every singe ride there except the Ferris Wheel. Mommy didn't think she should ride that ;). She had to ride the boats and airplanes twice. Everytime she would go past us while on the ride she was grinning ear to ear and just a waving. So precious and I loved seeing her having such a blast :).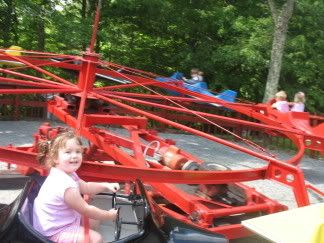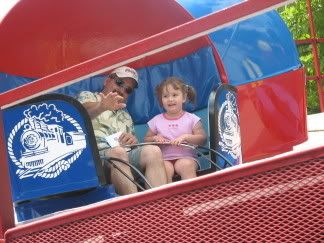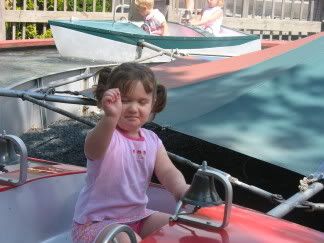 We actually got her away from the rides for a little bit to go to the little zoo they have there. You get to feed the animals out of your hand. I definitely did NOT think Madisyn would have anything to do with the feeding. Boy was I wrong HA! She loved it and keep wanting more food to feed them. She got to feed the different deer and also the goats. At the end of the zoo, one of the goats got her whole icecream cone. She laughed so hard when that goat grabbed it.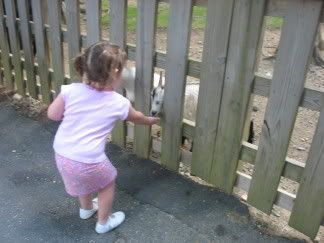 To finish the day we made our last stop at the imagination station to grab a quick Thomas the Train tatoo and play with the different train tables. Lyndsee actually wanted out of the sling to play with Big Sister. Madisyn also had a good time building the blocks there. We stayed there for quite a bit and had to pry a train out of Lyndsee's hand in order to leave the station.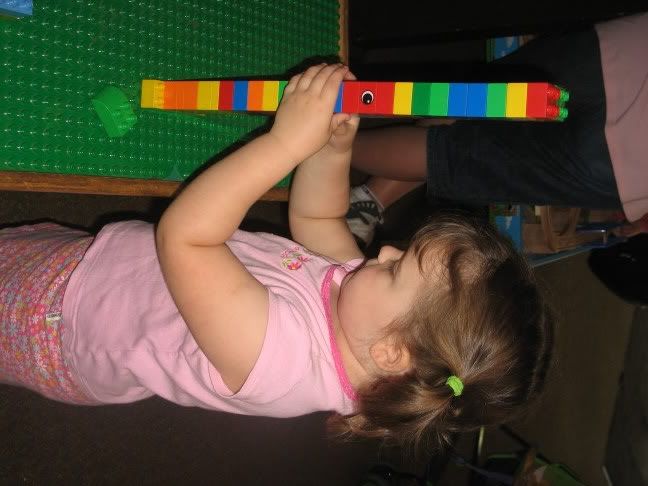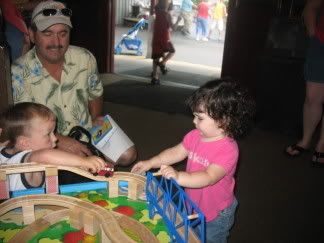 For Madisyn being such a great girl the whole trip she got rewared with a big chocolate vanilla ice cream cone. YUMMY! As we were leaving the park she said mom and dad, I had such a fun day. I was so excited to see Thomas. Now comments like that are worth it all. Seeing them have such a wonderful time and us spending great family time is what life is all about :).