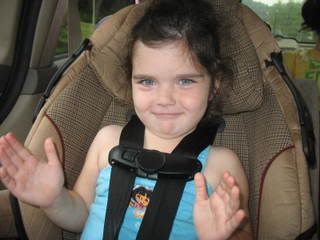 I have had quite a few scares since my Lyndsee poo was brought into this world almost 4 years ago, but something about this morning just really shook me hard core.
We still co-sleep of course and I was awaken to the little cries at 6:30am of "Mama, Mama, wake up". I immediately woke up and said what is wrong baby girl. I knew she couldn't be ready to get up for the day considering we didn't get in the bed till almost 2am.
One look at her and my heart skipped a beat. I knew something wasn't right. Her eyes were real glazed over like, she was extremely hot, and just looked like she had no energy whatsoever. My mind goes a million ways. Am I being an over reactive mother, or is there something really wrong. I kept trying to talk to her and all she wanted to do was lay in my chest. I start crying. Here we are a little over a week of me doing the single parenting since hubbs is out of town doing Rebuilding in Iowa. My emotions are all over the place anyways, so I get ahold of myself and call my mom.
I ask her to please come over and look at Lyndsee. I tell her what was wrong and she said I'll be right over. In the mean time, Lyndsee is still being real fatigued. I immediately start praying over her, I put my hands on her tummy and said "Lord please whatever is wrong to take it away and let her feel better. Do not take my youngest baby away from me. Please lead me in the right direction of what I need to do" It was a matter of seconds that Lyndsee stands up and starts vomiting this bright yellow stuff that looks like Bile. As soon as she did that, she started bouncing back to herself. My mom and dad walked in right after that too and made her smile really big.
I will go ahead and say I am a HUGE worry wart and I try to be rational about it. That is why I called my mom over. But, I can't help to let my mind wonder. As soon as I delivered both of my girls, my heart immediately wrapped around their little bodies. They are my world and I live life for them. I thank God so much for letting me be a mom to two wonderful little girls. Yes there may be cries on some days, yes there may be times I have to go scream in the shower, yes there may be times I want to run down the street, but it all comes down to it….. I could not live life without my girls. The love I have for them is so deep that it just keeps going farther and farther and farther in their hearts. I love you girls!!
Thank you Lord for letting my Lyndsee Poo be ok!