Florida holds a special place in our household. We were actually going to make Florida our home again next month but plans changed and we are heading to the Raleigh/Durham area of NC. I always want to keep the Florida legacy in our family since that is where my husband was raised and we have lots of special family members in our life there.
So, I was very happy to find while browsing on the Proflowers site, the Sago Palm Bonsai.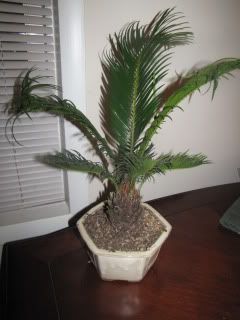 Isn't it just beautiful? Now, we can have a special Florida sentiment always with us right here in our home. Do you want to know the best part? You only have to water it once a week! Now, I definitely will not proclaim I have a green thumb so to have such a beautiful plant in the house that needs very minimal maintenance is right up this busy mom's alley. The girls and I are very eager to watch it grow and know it will be right at home with us for many years to come.
Proflowers has so many household plants that you can send to that special someone to make their day. I honestly know most people in my tight family/friend network would love to get a gift that will keep them smiling over and over everyday.
Thank you to Proflowers for sending us this Florida keepsake that just keeps the spirit of Florida living going and going here in the One Moms World household. 🙂