If you are traveling this weekend, you will not be alone on the roads. Soaring gas prices and a drab economy hasn't deterred Americans from traveling via car on long weekends. According to AAA(r), 88 percent of holiday travelers were projected to take to the nation's roadways Memorial Day 2012 weekend.
"The overall domestic economic picture continues to improve slightly, however, American consumers faced a new challenge this year as steadily increasing gas prices throughout the spring significantly squeezed many household budgets," said AAA President and CEO Robert L. Darbelnet. "Americans will still travel during the Memorial Day holiday weekend but, many will compensate for reduced travel budgets by staying closer to home and cutting entertainment dollars."
Stay safe on the roads. Unfortunately, in this day and age you have to watch out for people texting, drunk drivers and people just not paying attention. Be on guard and stay attentive. If you feel sleepy, pull over or let another person drive in your party.
If you are driving with kids this weekend or any road trip, I have tips that will help make the trip more tolerable.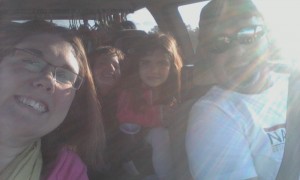 1. Make sure to pack plenty of snacks. Kids get hungry which can lead to multiple melt-downs. You will want to pack foods that are easy for them to access in the car. Pringles resealable cans make the perfect road trip companion, comfortably nestled inside most vehicle cup holders. For the crisps you crave in smaller sizes try Pringles Snack Stacks and Grab & Go cans. Both packs are also designed for the Pringles shape, making on-the-go snacking convenient and mess-free. Don't forget water and juice. The kids will want to stay hydrated.
2. Pack a technology bag. Technology can be evil yes if kids are allowed to access it 24/7 but in moderation can be a stress reliever for everyone in the car. Pack an iPad or iTouch with apps already installed that they kids love and even new apps for variety. Pick DVDs that your child loves and one that they have been wanting to see forever. If you don't have a DVD player, take a laptop with you. Game consoles such as DSi's are great companions as well. Switch up the technology and use it in moderation.
3. Pack an art bag. Crayons, coloring books, stickers, doodle notepad are just a few items you could put in the bag.
4. Pack a prize bag. If you are going on a really long road trip, visit your dollar store or the dollar section at your local Target and grab several dollar gifts. Wrap the gifts and place in a prize bag. Let the kids unwrap a gift each hour of the road trip. This will keep the kids excited knowing that they have a new gift to open each hour.
5. Pack a music bag. Kids love the interaction with the parents. Set aside different times on the trip. Pop in their favorite CD and enjoy singing along with the kids OR just enjoy hearing your sweet kids voices.
I hope all these tips will help make your road trip even more enjoyable. Stay safe and have a great road trip.