I am very excited to announce that Babies "R"Us is now carrying Pampers Swaddlers in Sizes 4 and 5. Did you know Pampers Swaddlers is the #1 choice of hospitals? Now, moms can keep their babies in the diaper they've come to know and love for all those important milestones – from the first tooth to the first step to running laps around the house while mom and dad try to catch up!
In addition to expanding Pampers Swaddlers to Sizes 4 and 5, Pampers has been making other improvements to their trusted diapers to help keep moms happy and their babies dry. Besides being their softest diaper yet, Pampers Swaddlers now feature an absorb-away lining, wetness indicator and new packaging and graphics. Pampers did not stop there with the improvements. The other improvements include new cuff material and absorbency speed. To learn more about all the new Pampers diapers innovations and see video demonstrations visit www.babiesrus.com\newpampers.
Moms are frequently challenged with the early morning wake-up call to change a leaky diaper. Pampers recently sponsored a survey of over 1,000 moms with little ones ages 3 and under. The survey found that nearly 1 in 3 mothers of babies age 1 or younger (30%) responded that they expect a wet, leaky diaper to be the #1 reason their babies may wake up at 3 a.m. Furthermore, the leading technique mothers of babies age 3 or younger (32%) use to help their babies have an uninterrupted night of sleep is to put a dry diaper on them before bed.
To help kick-off this exciting announcement, Babies "R" Us is doing a big promotion. From September 19-21 customers will receive a free $20 Babies"R"Us Gift Card with an in-store purchase of any two Pampers value boxes of diapers (78 ct. or higher.) Also, there is a nice offer on the Babies "R" Us Facebook page. Save 20% off your ENTIRE online or in-store purchase. Click here to claim the offer.
WIN!!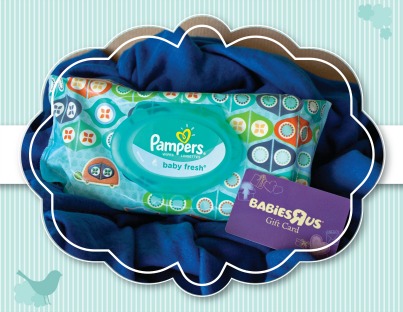 One lucky reader is going to win the above prize pack (Pampers Wipes (64 count) and a $50 Babies"R"Us Gift Card)!
Enter:
Disclosure: This is a sponsored post in conjunction with a partnership of One Moms World and P&G. P&G provided us product. All thoughts and opinions are of my own.