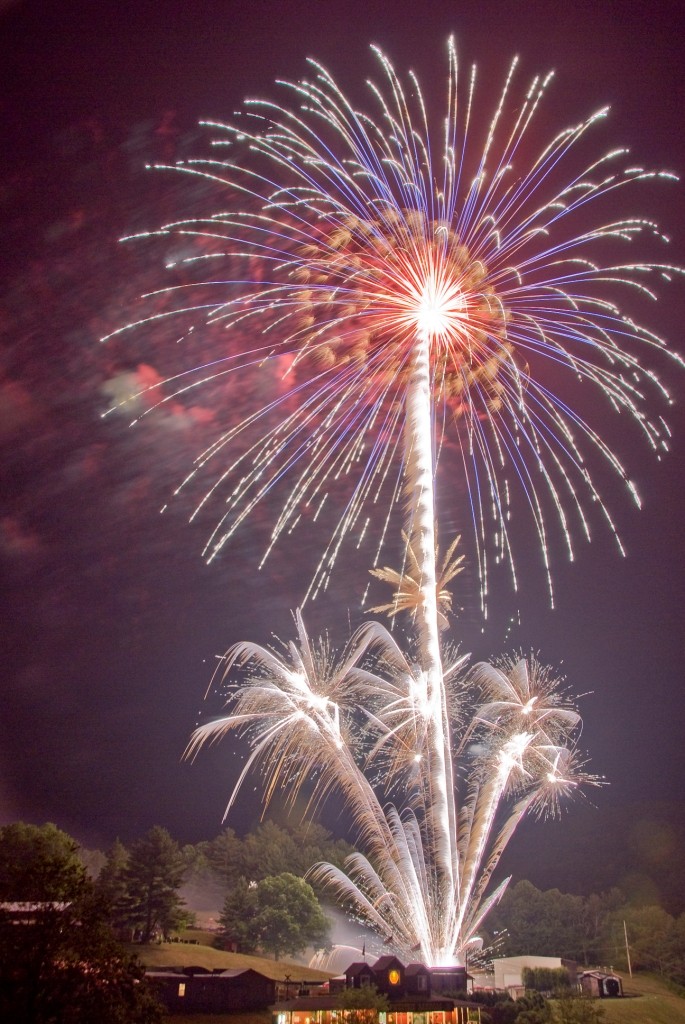 The most spectacular fireworks show in the High Country will be even better this summer when Tweetsie Railroad celebrates America's Independence Day and the anniversary of the park's opening day. On Monday, July 4, 2016, North Carolina's first theme park will stay open late to put on one of the High Country¹s most popular events, Tweetsie Railroad's July 4th Fireworks Extravaganza. The park will stay open until 9:00 p.m., and at 9:30 p.m. over 200 large caliber pyrotechnic mortar shells will light up the sky for all to enjoy. This year, even larger aerial pyrotechnics will be added to the show to make this the biggest-ever July 4th event at the theme park.
For those that want a VIP experience for the show, Tweetsie Railroad offers a premium viewing area that includes an optional dinner. A special chicken and barbeque buffet will be served in the Hacienda. VIP wristbands are available at the ticket office for $20 for adults and $15 for children ages 3 to 12; kids 2 two and under are free.
There's no better way to prepare the celebration than enjoying all the rides, live shows, and other attractions in the park. Spend the day at Tweetsie Railroad and take a ride on a train pulled by the legendary steam locomotives at Tweetsie Railroad. The unforgettable three-mile Wild West adventure through the Blue Ridge Mountains is fun for the whole family. Visitors can visit the friendly animals at the Deer Park Zoo, see live performances and visit Miner's Mountain to pan for gold or mine for gems.
Tweetsie Railroad opened to the public on July 4, 1957, with a one-mile train trip to a picnic area. Since then, the ride has evolved into an entire theme park, expanding the train trip to three miles and adding Wild West-themed attractions and activities. The theme park hosts special events throughout the year to the delight of rail fans, children and visitors to the Blue Ridge Mountains.
Parking is available during the Independence Day celebration for $10 per vehicle, with no charge for Golden Rail Season Pass holders. In the event of severe weather, the fireworks show will be rescheduled for July 5th. 
Tweetsie Railroad is located on U.S. Highway 321 between Boone and Blowing Rock, North Carolina. For more information about the 2016 season at Tweetsie Railroad, visit Tweetsie.com or call 877.TWEETSIE(877.893.3874). Find Tweetsie Railroad on Facebook at www.facebook.com/Tweetsie and Twitter and Instagram.