Children have different types of personalities. This plays so true with my two daughters' personalities. During our snow day earlier this week, I sat back and analyzed their behaviors in the snow. We are a very analytical family after all.
M was in the snow forming three huge snow balls to build a snowman. She did not just stop at building the snowman. The snowman had to be accessorized. I present you M's snow musician.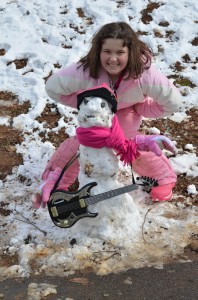 While M was entertaining us with the snow music, L was over by herself under a tree forming her own snow creature.
As we all know, L is a huge animal lover. She is going to be such a great animal advocate when she grows up. So, it was to no surprise that L was creating a bird with the snow. She came running down the hill to show me her snow bird. Too cute.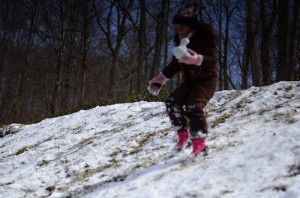 To answer my initial question, snow can show a child's personality. M has a love for the arts including visual and musical. This showed when she was accessorizing her snowman. M is very outgoing and loves to be around people. L on the other hand is very reserved and more quiet than M. L sat under her tree very quiet while forming her snow bird.
Pretty cool right?