A very cool announcement was released yesterday! This will help many families on the go to have Disney Movies literally at their fingertips.
The Walt Disney Studios unveiled its exclusive cloud-based digital movie service, Disney Movies Anywhere. This all-new app for iPhone, iPad, and iPod touch and Web experience enables consumers to discover, purchase, manage, and watch movies from Disney, Pixar, and Marvel at home and on the go. iTunes is the premier digital movie provider for Disney Movies Anywhere.
The debut of Disney Movies Anywhere coincides with the digital release of Disney's hit film "Frozen" and features Disney's library of over 400 active digital titles. In addition, for a limited time, Disney Movies Anywhere users who activate and connect their Disney Movies Anywhere account to their iTunes account will receive a free digital copy of Disney•Pixar's animated classic "The Incredibles."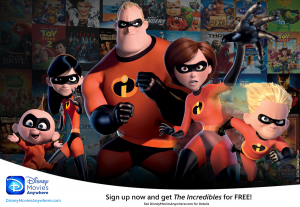 "Disney Movies Anywhere offers an exceptional consumer experience built around some of the most beloved and popular entertainment brands in the world," said Alan Bergman, President, The Walt Disney Studios. "This unique technology underscores Disney's commitment to meeting our consumers where they are with the content they want, and we're thrilled to debut with iTunes, the #1 digital media retailer in the world."
With an easy-to-use interface, consumers can explore live-action and animated films from Disney, Pixar, and Marvel; watch exclusive content and bonus features; preview upcoming offerings; and more. Users can simply connect their iTunes account to their Disney Movies Anywhere account to begin populating their Disney digital movie locker and watch movies online and on their devices. Featuring simultaneous access on multiple devices, Disney Movies Anywhere enables consumers to stream and download Disney movies on their iPhone, iPad, and iPod touch and Apple TV (through iCloud or using AirPlay). In addition, Disney Movies Anywhere functions as a streaming movie service when users log in to the website on their desktop or laptop computers (Mac or PC).
The Disney Movies Anywhere App is available for free from the App Store on iPhone, iPad and iPod touch or at www.appstore.com/disney. Sign up is also available through the Disney Movies Anywhere website.