Let's set the stage. Your child is in the biggest recital or school play of the year. Unfortunately, your family is all over the country and all of them cannot make it to the big event. What do you do? Naturally, you will take lots of pictures and videos. It is your child's shining moment after all.
After the big event, the video sits on your phone. You do your best to figure out how to get the video to all your family and friends. I have just the app for you to solve this dilemma. Introducing Joya, a new iPhone app that allows you to easily send one or more videos with friends and family regardless of file size.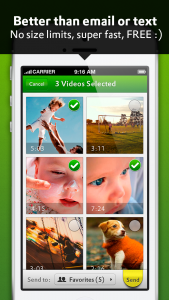 Joya co-creators Vlada and Michal Bortnik created this app so their family members all over the world could develop strong relationships with their two daughters.
"We wanted our loved ones to share in our kids' everyday lives but Skype was too difficult. By the time we got it set up, the kids were too wiggly, antsy and upset to be on camera," said Vlada. "We needed an easy way to remain connected to our favorite people on our own time and in a much more private way than blasting videos out on Facebook or Youtube."
Here's how it works:
· Download the Joya app on your iPhone
· Add contact information for your favorite people (cell or email) to your "favorites"
· Connect to your iPhone library
· Send one or multiple videos to your list of favorites
· The recipient will receive a link via text or email, click it and watch it. No iPhone or software required.
It is such a simple app and finally allows you to send video without sending large amounts of data through your text messages. We all want to show off our beautiful talented kids right? All your family or friends will have to do is open up their email and click to play. It is that simple.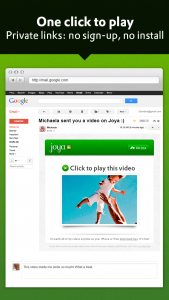 This app helps with privacy issues as well. I do not share a ton of video on my Facebook or Twitter. You just never know who is lurking out in the social media world and will see your video. There are some things that you would like to keep private with just family and close friends. Since this app only sends videos to the people you select, you do not have to worry about any outsiders being able to watch your video. It really is a win-win for everyone.
Now what are you waiting for …  download the app and free your videos!
Joya is compatible with iPhone 3GS, iPhone 4, iPhone 4S, iPhone 5, iPod touch (3rd generation), iPod touch (4th generation), iPod touch (5th generation) and iPad. Requires iOS 5.1 or later.