We have been fans of Chick-fil-A for a long time. It was just tonight that L was requesting chicken nuggets from Chick-fil-A instead of the spaghetti that was cooking on the stove. I think the girls would go every night if we would let them. I love that Chick-fil-A is very involved in the community and loves incorporating the entire family with their monthly events.
I just got word that 37 Chick-fil-A's in the Charlotte, NC area and one in Wilkesboro, NC will be hosting a Girls Night Out!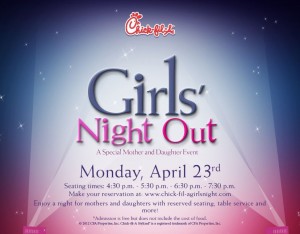 During this special evening, moms and their daughters are encouraged to spend some time together while they enjoy dinner, great conversation and several special activities that focus on helping girls discover their inner beauty.
Seatings are available every hour, and reservations are required. The activities of the evening are free, minus the cost of food. Customers can visit www.chick-fil-agirlsnight.com to make a reservation.
Every mother-daughter pair will also receive an activity sheet with questions and topics to get the conversation started and a take-home "secret box" for moms and daughters to continue the conversation at home with special notes of encouragement or appreciation for each other.
"Culture today emphasizes what a person looks like more than who they are on the inside," said Valerie Watkins, marketing director for the Chick-fil-A at Mayfaire. "We hope our Girls' Night Out will reinforce the importance of inner beauty in girls of all ages and want it to be an encouraging and uplifting evening for everyone."
In addition, every mother-daughter pair will receive a free dessert entrée with the purchase of
a meal. Chick-fil-A introduced a Chocolate Chunk Cookie, a newly improved Fudge Brownie and a variety of new sundaes at its restaurants nationwide. Chick-fil-A's seasonal Banana Pudding Milkshake also returned to menu boards on April 2. I can't wait for my girls to try out the cookies. I heard that they keep the cookies warm all day long. M has already tried the new brownie and said "Mommy, the brownies are so much better. I did not like the nuts on the old brownies."
Lots of fun happenings going on with Chick-fil-A. Make sure to check your local one in your area for all the up-to-date family events they hold each month. You will not be disappointed.