Let me just say it. I absolutely love my stainless steel appliances. My whole house could be filled with stainless steel and my life would be complete. Actually, that is an exaggeration. My life is already complete fully with my two beautiful girls and the man I love. I'm just saying, I have a love for stainless steel appliances. What I do not love though, is keeping them cleaned. Fingerprints show up everywhere on the appliances. Once we first received our fridge, we were not quite sure how to keep it cleaned. Right where we open the double french doors, our fingerprints love to gather. It could be portrayed as a piece of art from our family, but I would rather see the shine.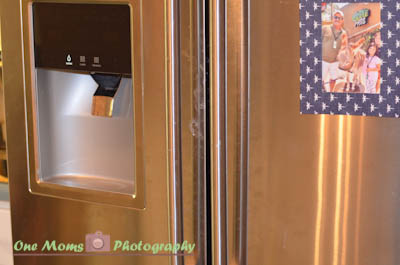 Enter Comet Stainless Steel Cleaner. Ever since I was a little girl, I can remember my mom using comet to do her housecleaning. Naturally, when I moved out on my own, I followed suit. It was exciting news, when I found out comet was coming out with a stainless steel line.
The perks with this new line:
– Leaves a streak-free, sparkling shine
– Breaks down grease, dirt and grime with the power of Comet®
– Gentle and scratch-free
– No harsh chemical fumes or irritants
You can purchase the stainless steel in three different product types.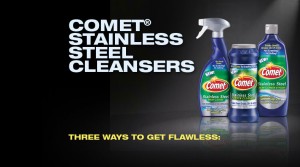 Check out how shiny my fridge is now. Keep in mind, this was two sprays and two wipes with a paper towel. Shiny!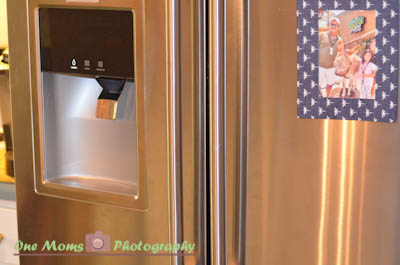 How would you like to try the Comet Stainless Steel Cleaners?
WIN a Comet Stainless Steel Caddy Gift Pack!
Caddy includes the new line of Comet Stainless Steel cleaners, stylish cleaning essentials, coupons to share with friends and a $25 gift card to help make a kitchen shiny and fresh.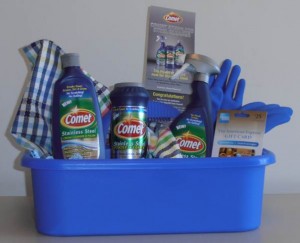 To Enter:
a Rafflecopter giveaway
Disclosure: Comet provided me a caddy filled with cleaning supplies in order to facilitate this review. All thoughts and opinions are of my own.