Welcome to the big HOLIDAY giveaway week here at One Moms World. We are starting off a week of giveaways today with a game that will have the whole family in stitches. Seriously, the game is that much fun.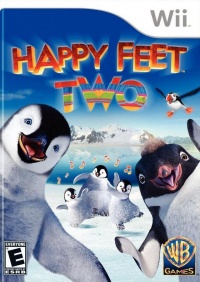 Happy Feet Two – The video game is poised to be on of the coolest adventure games for the entire family this holiday season. We are very picky when it comes to games that we pick out for our family and I am very pleased to say this game is rated "E" for Everyone by the ESRB.
Since L is such a huge animal lover, I knew this game would be a huge hit with her. I didn't realize though the whole family would enjoy it so much?! We literally have a foot stomping good time as we say here in the South.
Happy Feet Two is a 3D musical adventure game inspired by the whimsical Antarctic world of the upcoming animated film Happy Feet Two. Whenever we are at SeaWorld or the Zoo, a penguin exhibit stop is very high on our list. I often wonder if the first movie of Happy Feet had something to do with that strong attracting to Penguins. Even the hubby loves penguins.
The game has dangers threatening the penguin nation, and the whole family has to work together which includes dancing, to save the penguins from extinction. Very exciting and a team building game for sure.
Game Features:
Side-by-side Co-op Play: Players can get into the rhythm with friends and family with co-op play as Mumble and Ramon, two of the film's main characters.
Tap to the Beat: The game's all new, controller-based dance system uses players' rhythm to bring the Antarctic landscape to life. Players can tap to the beat of the music, compete in penguin dance showdowns and belly sliding races.
Meet the Cast of Characters: Players can use dance moves to recruit other penguins with unique abilities or win over other animals that advance the adventures.
Pretty cool interactive features right? You can WIN a copy of the Wii version for a special family holiday surprise.
To Enter:
Disclosure: I was provided a Happy Feet 2 Wii game in order to facilitate this review. All thoughts and opinions are of my own.