Curious George has been an all-time favorite of mine since I was a little child. Now that I am a mom, it gives me great joy to pass on this favorite to my girls. We are gearing up this weekend for a fun-filled Monkey party complete with Curious George activities and his new season premiere shows.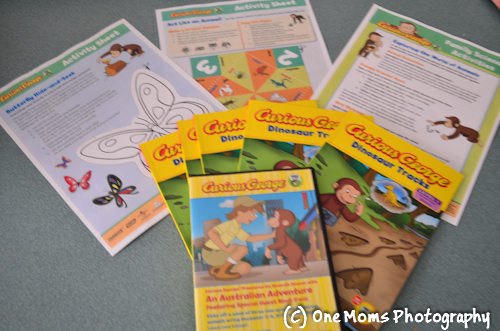 This Monday, December 3, Bindi Irwin will teach Curious George about koalas, emus, kangaroos and more!
"I was so excited to be a part of Curious George, says Bindi Irwin. He's my favorite monkey, I've loved him my whole life. It's wonderful he could help me teach kids about the beaut bonza animals that live around my home at Australia Zoo."
I can always depend on Curious George to be trustworthy and be a clean show with lots of family fun. It is a bonus too as there are always several teachable moments in his shows. Monday's show, "Monkey Down Under," George and the Man with the Yellow Hat head south for an Australian Outback Adventure. While the Man with the Yellow Hat goes sea cow sightseeing, Curious George stays behind to investigate a set of giant footprints in the sand.
The fun will not stop with this new episode as PBS will follow the night with two more brand-new episodes on Tuesday and Wednesday. Make sure to check your local listings for time. Make sure to visit PBS online with your kids as they have special activities to help satisfy your child's curiosity about animals. L is our huge animal lover in the family and is looking forward to some special computer time.
While you are enjoying the season premiere, take pictures of you and your little ones so you can add special touches with the pictures via PBS KIDS Photo Factory app available for iPhone or iPod Touch.
Since Curious George loves to play and be curious, Stride Ride is the perfect sponsor for the show. They know kids are just as curious and full of play. They are introducing the all-new Made2Play collection. It is built for good, clean and extra-durable fun. Just what us moms love right?
One lucky winner is going to get a pair of shoes for your child this Christmas Season.
a Rafflecopter giveaway
Disclaimer: I was provided a Curious George party pack along with a Stride Rite gift certificate. All thoughts and opinions are of my own.