It doesn't seem quite possible that tomorrow will be 7 weeks from surgery. It will be two weeks since I was unwired from my splint. Getting the splint un-wired did not hurt but it tasted awful. I could not have ran faster to the sink to brush my teeth and the roof of my mouth. GOOD BYE splint. I was ready to take on the world by eating and talking….. well maybe not!
I was in for a rude awakening. After my splint and wires were out, I thought all would be normal in my world once again. Ummm no! I couldn't hardly even chew up a piece of grilled chicken. Talking was just way too weird. My mouth wouldn't open far. Sad feelings rushed over me. You are not able to talk normal or chew normal.
Two weeks have passed and so much progress has been made in the past two weeks. Dr. Turvey and his Resident Doctors sent me home with popsicle sticks. I need to get 12 to 15 in my mouth by the time I see them on June 17th. It's not easy but guess what? Tonight, I was able to get in 11 sticks. Go Jen! My daughter M was cheering me along the entire way.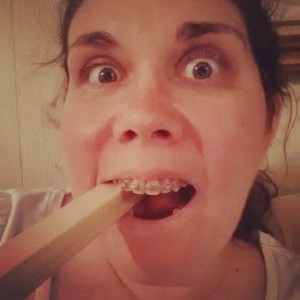 Happiness. True happiness. Who knew sticks could make someone so happy? Food is still a battle. Each day though, I feel like I can chew lightly a little better. I am only able to chew soft foods such as pasta, oatmeal, muffins, etc. I tried to bite into a banana and it was a no go. My mouth just cannot open that far yet, but with time and exercise it will.
Each day I do my exercises and the heating pad. The heating pad wrapped around my jaw helps relax the muscles so I am able to do my exercises. Throughout the day my face gets really tight. I am hoping over time this will stop. It is a question that I am going to ask Dr. Turvey when I go see him next month.
Tomorrow will be back to work full-time for two weeks. Work is going well. There have been days of pain, but I finally quit being stubborn and take my ibuprofen. It helps me get through the painful days. Tiredness still gets me though around 6:00pm. I am ready for bed. My iron levels still could not be back to normal. I need to have them checked again. My coworkers help talk me through the days but I feel like I complain to them too much about my jaw recovery so I try to keep the recovery talks to a minimal. Several coworkers have told me they can see a difference over the last two weeks with how I am moving my jaw. It is moving more freely. This definitely makes me smile. I tried to tackle phone calls today but realized quickly, the feeling of my jaw was making me feel weird. Maybe a couple more weeks?
Dr. Turvey says it takes a full year to recover. I didn't believe him but after the last two weeks, I do. Most of the recovery should be complete by six months. Overall, I think he will be pleased with how far I have came so far and I still have another 4 weeks until I see him. I have most of the feeling back in my face except my cheeks, bottom lip and my chin. This morning though was a big breakthrough when I could finally start licking my lips. This was HUGE. I feel like I am just right on the edge of getting my feeling back in my lip and chin. My waterpik is still my best friend after every time I eat. I have no idea how I lived with braces without it.
If I can say so myself, doesn't my jaw look awesome?