I feel like summer just started and yet we only have 4 weeks left of summer fun. The girls start back school the second week of August. If I think about this too much, the tears will start streaming down my face. Our summer schedule is going so well, that I do not want to give up the schedule. Every moment is being savored. Our family has done so many great adventures this summer, but the moments I have really enjoyed are our family picnics. A picnic is so much fun and includes lots of family laughs. My girls can make me laugh so hard.
For example, check out this joke that L came up with:
Why did the drink cross the road?

Because he drunk.
As corny as that joke was, I could not stop laughing. The way she said it just had me rolling.
During our picnics, we love to eat pretzels and hummus. Libby's Fruits & Vegetables sent me this summer hummus recipe. You have to try it out.
Smoky Carrot Hummus Sandwich Spread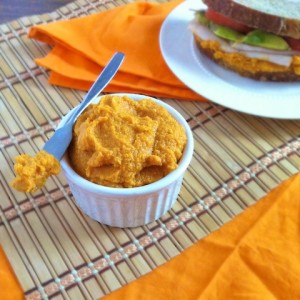 Makes 2 ¼ cups
Get out of your mayo and mustard rut with this flavorful and healthy sandwich topper.
Ingredients:
1 (15 ounce) cans Libby's® Sliced Carrots drained and rinsed
1 (15 ounce) can Libby's® Organic Garbanzo Beans, drained and rinsed
2 tablespoons lemon juice (about 1 small lemon)
2 garlic cloves
1 teaspoon smoked paprika (or curry powder)
½ teaspoon cumin
1/8 teaspoon black pepper
¼ cup extra virgin olive oil
Directions:
In a food processor, blend together carrots, garbanzo beans, lemon juice, garlic cloves, paprika, cumin and pepper. While processor is running, slowly pour in olive oil. Process until smooth.
To make a sandwich, spread 2 tablespoons of carrot hummus on one slice of whole grain bread of your choice. Top with avocado, tomato, turkey or your favorite sandwich fillings. Top with another piece of whole grain bread.
Keep remaining spread in sealed container for up to 10 days in refrigerator.
Hummus is so healthy for you. We really enjoy it on wheat thins too!
Does your family love going on picnics? I have a super fun GIVEAWAY!
One lucky reader is going to win an Insulated Picnic Basket in Red and Picnic Blanket Tote in Red.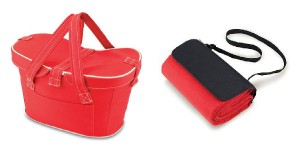 I am in love with this picnic basket and blanket tote. The basket is so fashionable and so easy to pack cold items into. Can you tell I am a fan?
TO ENTER:
a Rafflecopter giveaway
Get outside with your family and have a picnic. It is so simple, costs very little and equals so much family fun!
Disclosure: Thank you to Libby's Table for this awesome recipe. I received the same giveaway items in this post. All thoughts and opinions are of my own.