Disney Parks released some great news this morning in Times Square. The one moment that I would have loved to have been in Times Square.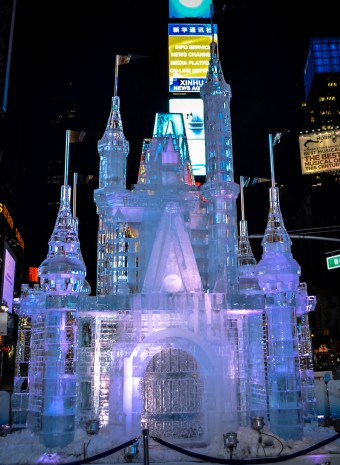 To help prepare for the big announcement, Mickey and friends were hard at work getting ready for the unveiling of the above ice castle. The fairytale castle is made of 45,000 pounds of ice. Pretty amazing right. Check out more photos here.
Over the course of the year in 2013, Disney will be releasing limited time magic surprises just for you and your family. These limited time surprises will magically appear and magically disappear once the next surprise arrives at the parks. What type of surprises can you expect? According to the Disney Parks Blog:
– True Love: Celebrate romance and enchantment throughout Valentine's Week with special moments and entertainment geared to lovebirds. Disney Princes join their Princesses to meet park guests in special settings, prix fixe menus turn up at select restaurants and Valentine's collectibles will be offered for the week.
– Independence Week: It's red, white and blue as Disney Parks salutes America with a 4th of July Fireworks Party — for an entire week, with patriotic lighting bathing the Disney castles on both coasts. Mickey Mouse appears in his patriotic finest and guests will find special USA shirts, Ear Hats and other limited-edition souvenirs.
– Long Lost Friends Week: Lesser-known Disney characters will move from the shadows to the spotlight meet-and-greets on both coasts. Photo opps with characters that could include Flik, Clarabelle Cow, Remy, Tweedle Dee and Tweedle Dum will surprise and delight guests. And Disney guests even have the chance to vote online for which characters they want to see.
– Pirate Week: Why talk like a pirate one day when you could celebrate these scalawags all week long? The adventures of Jack Sparrow come to life like never before during a bicoastal buccaneer bash in which Disneyland and Walt Disney World become pirate-palooza: pirate bands, pirate meet-and-greets and more.
– Dapper Dans Sing Boy Bands: The Dapper Dans, the iconic quartet from Main Street, U.S.A., will add a special finale to their show, claiming the title of the "Original Boy Band" and delivering a medley of hits from One Direction, *NSYNC and the Backstreet Boys.
– Unleash the Villains: Friday the 13th in September 2013 is a special day, so Disneyland park and Disney's Hollywood Studios are staying open until the 13th hour (1 a.m.). Maleficent, Captain Hook, Jafar and other Disney Villains host a dance party, complete with limited-edition collectibles and other nighttime mischief.
– Golden Horseshoe Revue: The fabled Frontierland show returns to Disneyland park for one month only, bringing back the corny jokes and enduring songs that were often enjoyed by Walt Disney himself.
As if the new Fantasyland opening wasn't enough to get us back to Disney World asap, this just puts the icing on the cake. Who is ready for 2013? I sure am!