Disclosure: I received complementary Portable North Pole products in exchange for this review. All thoughts and opinions are my own.
Christmas is just around the corner. Obviously, my main thing during Christmas season is ensuring the girls know the real reason of the Season – Jesus!
We also still "believe" though and enjoy Santa showing up Christmas Eve when everyone is all snuggled and sleeping in their beds. Santa can send your child a video all the way from the North Pole. You can get a FREE personalized video message from Santa Claus filled with magic and exciting discoveries for your loved ones.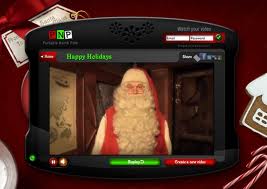 My girls love receiving a video from Santa each year. They wait eagerly to see what Santa has to tell them each Christmas season. He always makes sure to include their awesome accomplishments of the year such as no fighting with each other!
You can also have Santa call your family one evening while you all are just hanging out around your house. Do you have one evening the kids are acting strangely? No worries, have Santa give them a call and remind them he is on his way. They better be good! Portable North Pole's Santa's Phone Call is $3.99 for one call or $6.99 for three calls. Santa has a very important message for your loved one! He will pick up the phone and call directly to deliver his personalized message. Santa's call will last approximately two minutes and you can choose between 14 message options.
Would you like a longer video from Santa? Portable North Pole has a premium selection. Premium videos includes almost 6 minutes of personalized video message from Santa Claus, features 3 additional photos and more personal details, a clip of Santa's riding on his sleigh and even a personalized Christmas carol!
So many great options for you to spread some Christmas magic with your family this wonderful season. What are you waiting for? There is plenty of Christmas cheer to be heard!
Visit the Portable North Pole today and enjoy all the creative communications with Santa.
PNP donates 5% of all online sales to a Children's Hospital close to the buyer's location. PNP currently collaborates with over 40 regional Children's Hospitals in the U.S.