Last night, as I was sitting at my desk finishing up a blog post, a friend sent me this link. As soon I read the post from the Today show, my heart was so sad. The anger was overfilling my heart. A company that I love so much, blog about A LOT, and a company that I love promoting to others has ripped my heart.
Check out what they are doing to Minnie Mouse.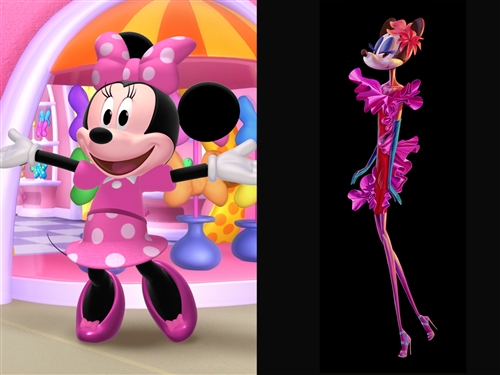 Evidently, this new design will be in the new Barney's 2012 holiday campaign "Electric Holiday." Why do we have to do a new design? Minnie Mouse is a character that many people has loved for years not to mention all the kids around the world that sleep with their favorite Minnie Mouse stuffed animal every single night. What is this photo teaching our children?
Unfortunately, I suffered from anorexia during my junior high years. It was a disease that took control of my mind and would not let go until after several counseling sessions. My dad would sit by my bedside pleading for me to eat. Food was my enemy. I did not even want to have food in my sight. You see, I thought I was fat even at 95 pounds. Peer pressure, catalog advertisements and media had portrayed this skinny version of models. During school, I did not want to be the "fat" girl so I went on a "diet." Except the diet went further. I started seeing results from not eating, so I continued to not eat. The scaled showed 115 pounds but I would look in the mirror and see fat staring back at me. I dropped down to 90 pounds before my parents and counselor was able to reason with me. Thank GOD they were able to reason as I was dying a slow death. I would not be where I am at today with two beautiful girls and a wonderful husband.
Those years bring up such raw feelings that bring me to tears every single time they cross my mind. As soon as I looked at the picture of the new Minnie Mouse, the feelings came rushing back and the anger just poured out as I vented on my Facebook. I am trying my hardest to not let my girls go down the same road as I did in junior high but what are they going to think when Disney has made Minnie Mouse rail thin?
Disney, what is wrong with putting Minnie Mouse in an evening gown with the shape she has presently? She has curves. Curves are good. She does not look overweight at all.
I was really hoping Disney was pulling an April Fools Joke here in August but unfortunately, it is not a joke. A company that I love show much is kicking me down right now. Please Disney, hear me out – Do NOT move forward with this design. I know you have better morals and values. Please think of all the little girls that will see this new version of Minnie. I am begging you!