It is pretty sad when my girls M and L are up on the new Disney movie news before me right? L came home a couple weeks ago all excited about the new Disney movie CHIMPANZEE. As many know, L is our little activist. Let me rephrase that —- she is a big activist in a little person's body. She cares about our world and animals so much. So, it is with great cheers that I let you know Disneynature's CHIMPANZEE will hit theaters everywhere on April 20th.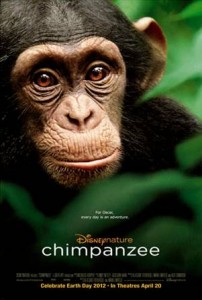 Disneynature takes moviegoers deep into the forests of Africa with "Chimpanzee," a new True-Life Adventure introducing an adorable young chimp named Oscar and his entertaining approach to life in a remarkable story of family bonds and individual triumph. Oscar's playful curiosity and zest for discovery showcase the intelligence and ingenuity of some of the most extraordinary personalities in the animal kingdom. Working together, Oscar's chimpanzee family—including his mom, Isha, and the group's savvy leader, Freddy — navigates the complex territory of the forest.
Check out this cute little clip of Oscar!
To get your kids excited and feel involved with this new movie, Disney has released a FREE children's activity book.
My girls are on Spring Break this week and are actually enjoying this activity book as we speak. Disney has even went further to create an educator's guide perfect for teachers educators and parents who homeschool their children. Download FREE here.
Enjoy. I know where we will be on April 20!