We have finally kicked the evil virus out the door. We are in hopes the virus will never visit us again because it will not be welcome in this household. The girls were on Spring Break last week and as you may remember, I had big plans for them. Unfortunately, since I got hit the worst with the virus, those plans never made it to fruition. By Friday, I was feeling really down about the girls Spring Break being ruined. Do you know, the girls never complained one time?
As I was finally getting back on my feet on Friday, I went outside to take a peek at the girls. Hubby took the girls outside for the day to get them out of the house and spend daddy and daughter time. I kept hearing giggles and joyous voices so I had to go see what all the fun was about. As I made my way outside, I was greeted with such a wonderful sight.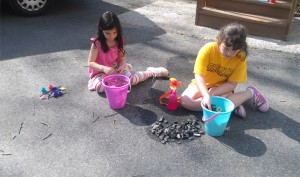 The girls were having a blast with sticks, rocks and water. Who knew? M exclaimed: "This is the best day, mommy." There were no electronics involved or any high price toys. We were talking about only the basics — rocks and sticks.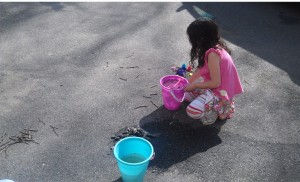 It brought back memories from my childhood. My brother and I would spend hours and hours outside playing in the dirt. We didn't have a lot of money growing up so we made do with the best we could. I don't recall any bad memories growing up or wanting more money. I only recall having a wonderful childhood. At times, I feel like as a society we are way too ahead of ourselves. Kids think they have to have technology in order to have fun. We need to get back to the basics and show kids that they can have a blast with natural resources. Hubby and I vow to get outside more this Spring and Summer with the girls. We want to enjoy our surroundings and leave technology in the dust for awhile.
Do you think America needs to get back to the basics?