There is something magical about the holiday season. I try to squeeze in many family adventures to make lots of holiday memories. Obviously, we enjoy going on adventures that are not all about food. We heard about the NC Theatre presenting a Lythgoe Family Production of ALADDIN AND HIS WINTER WISH. This show is based on the Aladdin fairytale of a street rat with a dream, and follows the style of the traditional British Panto with singing, swinging and soaring adventure!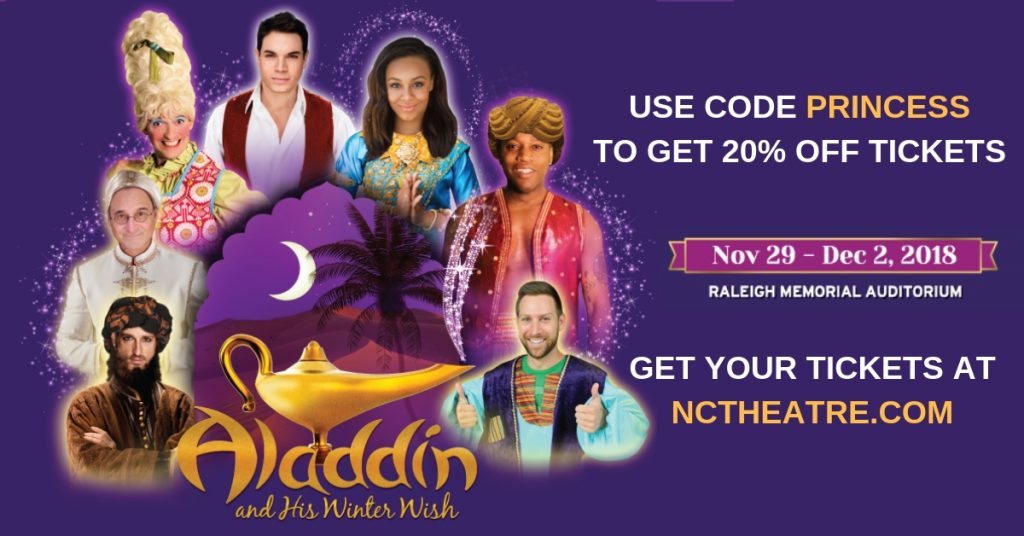 This show, produced by Kris & Becky Lythgoe, known for their involvement with "So You Think You Can Dance" and "American Idol," is in the format of British Panto, featuring a modern version of the classic fairytale with pop music, comedy, audience participation, and family-friendly magic. "Aladdin and His Winter Wish" is appropriate for kids as young as 2 and is entertaining for the whole family!
SCHEDULE
Thursday, Nov 29, 2018: 7:30PM
Friday, Nov 30, 2018: 7:00PM
Saturday, Dec 1, 2018: 11:00AM
Saturday, Dec 1, 2018: 3:00PM
Saturday, Dec 1, 2018: 7:30PM
Sunday, Dec 2, 2018: 12:00PM
Sunday, Dec 2, 2018: 4:00PM
LOCATION
Raleigh Memorial Auditorium
2 East South Street
Raleigh, NC 27601
Make sure to use the discount code above to get 20% off ticket prices. Go ahead and schedule a family date during this joyous holiday season! You will not be disappointed.