What a busy few days we have had here lately… hence my missing in action on the blog ;). With the end of summer being this past weekend we wanted to make the weekend a special one for Madisyn so for Sunday she picked going to the beach… we had a blast just hanging out at the beach for the day and having no worries hehe. I knew I should have been home working as I am pretty backed up with work, but how could I just let the weekend slip away hiding in my office knowing this was the last weekend before school started?
So my mommy instincts came out and said it will be there when I shall return? It was there alright and I am still playing the catch up game, but its all worth it in the end right?
This brings us to the ole so sad, ole so happy day of yesterday. I have been dreading this day for a looooooooong time but Madisyn has been looking forward to this day for a looooooooooong time 😉
It's like ahhh haaa I get to be my miss independent self and be away from mommy for a bit. She loves to be independent so that is what I keep telling myself that Pre-K will be a good thing. Even though I done told her if she doesn't like it I will be glad to homeschool her. She says no mommy I'll be back you don't have to cry HA!.
We are off on our journey, but you know mommy had to halt her from getting into the van until we could get picts ;).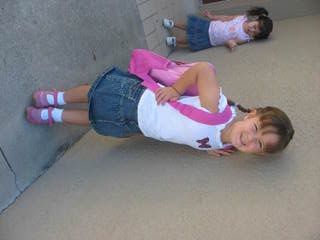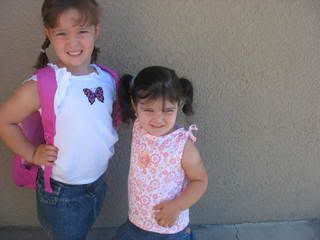 We actually get in the van and begin the journey with mommy trying so ever hard to fight back the tears. Madisyn keeps talking about how excited she is, and mommy is sitting here trying to convince herself its ok if your daughter is growing up it will be A-OK!
We drive into the dreaded parking spot and I begin to lose it… the girls happily jump out and hit the ground running: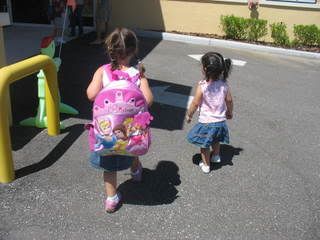 While mommy tries to cherish those last minutes of my non-school girl :(. I just don't get out she was this little baby so independent of mommy and now she wants to do things herself and says mommy I am a big girl now!
Ok Jen try to move the tears away and get a snap of your baby girl and her mommy before she walks into class. You do want a good pict right?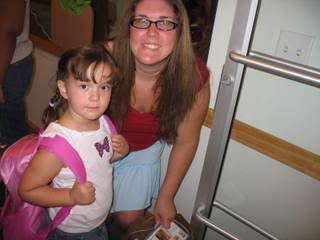 We walk into the classroom Madisyn hugs me and I will not let her go ;). I just want to hold onto her forever and be her protector. She leaps over to her spot in circle time. Lyndsee follows her. Lyndsee babe, you can't stay with sissy, you go with mommy! No mommy I want to stay with sissy. Oh boy! I stand up and here goes the tears just flowing so easily and I'm trying to hold them back but just can't anymore.
Madisyn turns around looks at me.. mommy you can go now. I love you bye. But mommy doesn't want to go now… but mommy I don't want you staying with me all day. Please pass the napkins… I tell her I LOVE HER and we give each other the I love you sign and I go out the door hiding around the door and she looks back at me: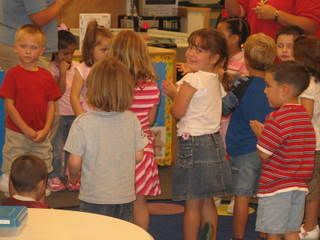 Mommy I see you… Oh darn she caught me. Lyndsee starts screaming mommy mommy go get sissy. We can't hun she is with her friends at school. I casually walk away but before I do I have to get my one good yell into Madisyn. I love you sweetheart mommy will be right back. She gives me the thumbs up and I proceed down the ever so long hallway :(.
I did it though, yes there were tears but I made it through. Those were the longest 3 hours though until I had to go back and get her. I walked in to get her and she yells there is my mommy. hehe. She came running full force and we just hug each other and I start crying again. HA! I have my little girl back. She did tell the truth and came back to me ;).
Only problem is she fell and busted her chin at gym time on the basketball court SIGH. I wasn't there to kiss her boo boo but mommy snuck it in when I saw it ;).
We survived day one and so now lets see how the rest of our days go. I'm sure sometime I may get accustomed to this… oh maybe when she's 18 HA!