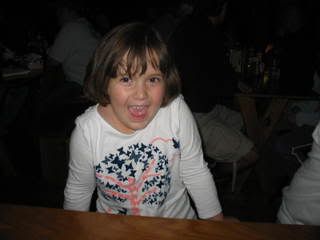 We just had Madisyn's first ever parent teacher conference that they have throughout the year to see how well your student is doing. I really did not know what to expect going into this conference, but was anxious to hear how well my little girl was adjusting to school.
I knew in my eyes our little girl was a pretty smart one. She is like a little sponge and constantly wants to be learning something. We homeschooled a lot this last year just to keep her from being bored. I remember her preschool teacher here in NC from last year, told me that Madisyn could just skip kindergarten and go on to First Grade. I didn't really want to do that though. I want her to just go through normally. They tried to get my parents to let me skip a grade, but mom wouldn't agree to it either.
Anyways.. the last week or so Madisyn had been telling me school was boring, that she already knew everything. So I knew I was going to tell the teacher that anyways at the conference. We get sat down and the teacher starts off by saying Madisyn is such a wonderful child and is the mothering type. She loves to make the kids smile and brighten their day if they are down. I was just smiling ear to ear because that is so Madisyn. She always wants to see others smiling and not down. The teacher said you would never know we were going through a stressful time right now, because Madisyn just acts so happy all the time and no stress. That made my day. I always worry that she will hear to much what we are saying about things financially… but this assured me she is doing A-OK with that.
We go on to how well she is doing with learning. The teacher pulls out her report card and there was four columns (meaning one displaying for each 9 weeks). By the end of the nine weeks they want all of the fourth column filled with "s" all the way down. This means they can go on to the 1st grade and have completed all goals. Well…. my Madisyn has already completed all goals in the first nine weeks. That's my girl. I was so darn tickled pink with her. But it was no wonder she was bored with class… as she already knows what there is to learn in Kindy! Soooo the teacher is going to be moving Madisyn onto bigger and more academically things that will help Madisyn continue to grow with her learning. I was so happy to hear the school was going to do this and not just let Madisyn sit there and be bored. They really see her strengths and the will that she has to learn all that she can. It warms my heart that the school will do this for students. I knew we had picked a great school.
They said she is such a social bug and just loves being around other kids. I really think this is why Madisyn hated me homeschooling her, because she thrives on being with other kids which is really good :).
Anyways… I just had to brag on my girl. I'm so darn proud of her and yes I will admit she takes after me ;). I always loved school and could never get enough of it either. So cute to see my daughter falling in my footsteps.
Madisyn… I'm so super proud of you girlie. You are so smart and full of wit. I love that you are always caring about others and always there to put a smile on everyone's face. That's my girl. LOVE YOU till the moon and back 🙂