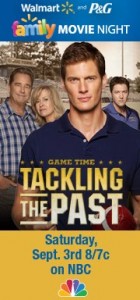 While you are celebrating Labor Day weekend with our budget friendly ideas, I have another fun family activity for you that is FREE. P&G and Wal-Mart is back with another awesome family movie night – Game Time: Tackling The Past. The movie will premiere tomorrow night September 3, 2011 on NBC at 8pm ET/7pm CT. As you know, I am a huge fan of the family move nights that P&G put on because they are movies they whole family will enjoy and you do not have to worry about having to hurry and fast forward and cover your child's eyes.
Let's take a short preview into tomorrow night's movie. Click on the picture below for the preview to play.
This move is all about getting ahead of your raising. Pro football star Jake leaves his city and friends behind to go live out his dream. Now, I am all for going for your dreams, but please never forget where you come from. Never forget your friends and family that always supported you. Jake is served some real blows in this movie and he has to really make the right decisions. I loved watching it with my girls as it teaches them that even though we should achieve for a better life, we will always need our family and friends around us. Children today need to see more morals and values in our life and not just make your dreams all about money. P&G and Wal-Mart do a great job in this movie.
Put the popcorn on and pull out the blankets. Cuddle with your family on the couch tomorrow night and enjoy family movie night. You will be glad you did!
Make sure to "like" Family Movie Night on Facebook so you can stay up to date when they release the next one. Enjoy!
"I wrote this review while participating in a campaign by Mom Central Consulting on behalf of P&G and received a promotional item to thank me for taking the time to participate."