Did you know Groupon has online coupon codes? I did not realize this until recently when I was searching for an online coupon code for Walgreens. Walgreens is my go to place to have pictures printed and/or picture crafts. One of the main reasons I love using Walgreens is you can order and have someone else pick up the finished product.
L loves to design and draw on the computer. She wanted to surprise her BFF with a gift. Her creativity sparked a beautiful image. We uploaded to Walgreens, searched Groupon for a coupon code, selected the Walgreens closest to their house, and submitted payment. Once the photo project was completed at Walgreens, an email was sent to alert us the artwork was ready for pickup.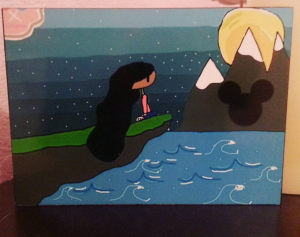 Isn't it beautiful and so creative? Needless to say, L's BFF absolutely loved the artwork.

Walgreens has great products to put memories into keepsake items. Their Groupon Coupon page always has coupon codes so you do not have to pay full price for the items. My rule of thumb is to never hit submit until I have checked for an online coupon code. The items make great presents and you can save on delivery charges by sending the product to the nearest Walgreens of your special recipient.
Disclosure: This is a sponsored post. All thoughts and opinions are of my own. We love Walgreens and coupons!