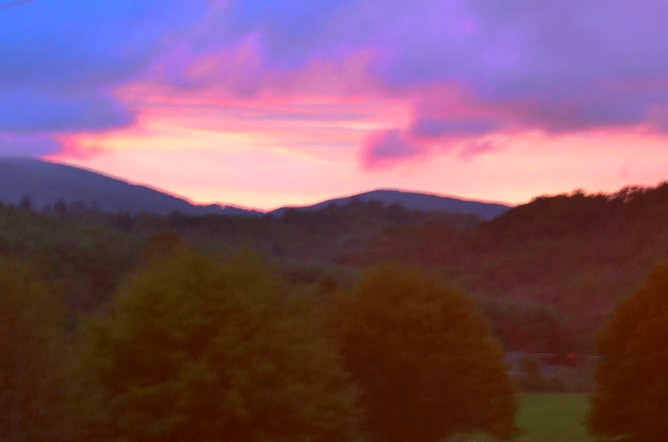 God's amazing beauty surrounded us tonight after we ate dinner. My husband walked out on the porch and called for me to come and join him. As I walked out onto the porch, I was greeted by this gorgeous sunset. The colors were so vibrant. Today had been a particular busy and somewhat stressful day. I have mid-terms coming up for this semester, putting the finishing touches on the fall festival with a silent auction, and of course my job that brings home the bacon. The sunset was the sign from God that I needed to calm the stresses and the worries.
I opened up my e-mail tonight after finally getting the girls in bed and this verse was in my daily devotion email.
Philippians 4:6-7. "Don't worry about anything; instead, pray about everything. Tell God what you need, and thank him for all he has done. Then you will experience God's peace, which exceeds anything we can understand. His peace will guard your hearts and minds as you live in Christ Jesus."
Once again, another sign from God. Isn't he great to put his love in front of us at the moments that we need them? We have a lot of uncertainty going on in our family and I tend to let it consume my thoughts on a daily basis. The sunset and the bible verse are signs that I grasp onto as my ray of hope that everything will be fine. As I was ready to start crying tonight, my sweet friend Nan, started typing to me on Google Chat. She didn't have all the answers but she said this:
"Just keep saying your prayers and relying on God. He will answer your prayers, you know He will."
Those two simple sentences meant so much to me. I got a hold of my self and immediately said a prayer. I do not want to be worry wart, a stressful mom yelling at her two beautiful daughters, or snapping at my husband. I do just need to rely on God and let him take control. He has our plan for us, we just need to be patient and willing to accept his plan.
Do you ever grasp onto signs after a stressful day? Also, I am not the only mom that yells when she is stressed right?