Summer reading helps and encourages kids to stay at their reading level they achieved in the prior school year. My sweet L grew by leaps and bounds over the last school year. She went from below grade level to above grade level. I do not want her to regress and lose her huge reading achievement.
Thankfully PBS KIDS is helping parents all across the US to make summer reading fun for all children. We helped kick off the program this weekend with a summer reading party at our house.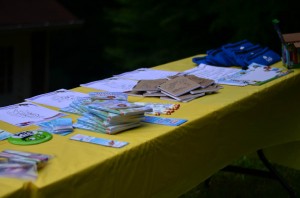 For its second year, PBS KIDS is teaming up with iVillage for the iVillage PBS KIDS Summer Reading Community Challenge. The iVillage PBS KIDS Summer Reading Community Challenge began on June 18 and features free literacy-building resources for parents and children designed by the experts at PBS Parents and PBS KIDS. Challenge Coach, Angela Santomero, Creator, Executive Producer and Head Writer of SUPER WHY!, will provide daily reading activity assignments, answer parent questions and offer advice throughout the online event. Additionally, PBS KIDS will offer other summer literacy resources on-air and online, with themed weeks airing on PBS KIDS, as well as online tips and resources for parents to use with their children this summer. It is not too late to sign up your kids!
We had so much fun sharing the summer reading program with some of M and L's friends. The kids were so excited to receive their very own book, bookmarks, stickers, notebooks, markers and even tattoos.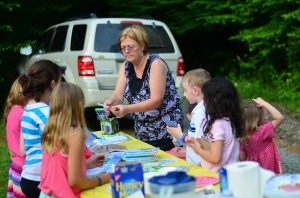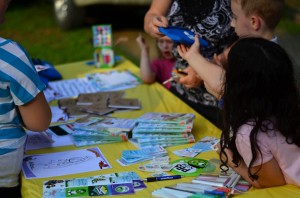 Of course, summer memories were created with the iVillage photo frame. The kids will look back on this in the future and just smile.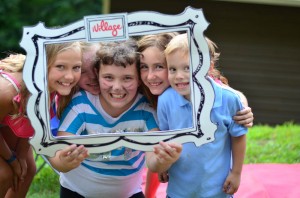 Two surprise guests walked right into the party and filled the faces of the kids with pure delight. Our very own Cat in the Hat and Thing 1!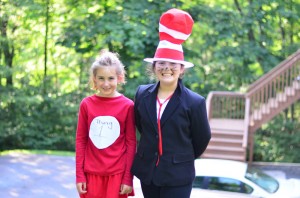 Help your child have fun with summer reading and sign them up today. You'll also get book suggestions and discounts, free downloads of PBS KIDS shows and a daily chance for your child to win $1,000 and other great prizes.
My girls are stoked about summer reading now and all the kids that joined in the fun this past weekend are too. Let the summer reading fun begin!
Disclosure: I was provided a summer reading party kit by PBS KIDS and iVillage in order to host the party. All thoughts and opinions are of my own.