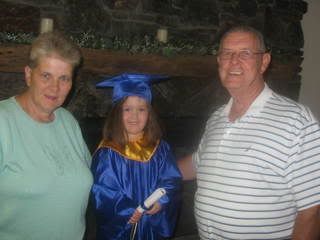 Do you see those happy faces on my mom and dad with Madisyn at her preschool graduation? I am missing that right now.
For all that don't know we made the move from NC to the Tampa Bay Area at the end of this past June. I thought this was the best move for us and would help Scott career wise and help Lyndsee with her Asthma. We were so happy to do the move!
Fast forward almost 5 months now. I am loving this area we have moved to. We are in a great neighborhood and close to anything and everything we ever wanted. Well so why the heavy heart Jen?
My parents are in NC so that is about 11 hours distance away from here. We are a close tight knit family and have always been. We call each other several times a day and usually seen each other about every other day and would go out on weekends together to do a variety of stuff. The girls loved going to see their YAY YAY and Paw Paw, so this has been a drastic change being a way from them. I thought I was doing pretty good with the distance apart until I started getting wind of what my dad was going through!
It just breaks my heart to know he is so down in the dumps, just feels like there is no life left in him since his pride and joys are so far away from him. He calls throughout the day to talk to me and the girls and you can just tell in his voice the pain he is going through. I talk to my brother and he sends me IM's during the day saying Dad isn't right Sis. He just paces the floor and says life just isn't worth it :(. I am crying writing this. That is my dad everyone… and I am causing the pain that he is going through. Do you know how bad that hurts? I never once thought he would experience this pain or he would be dealing with the situation this hard. I am worrying so bad that what if something happens to him, I am going to be the cause of it? I would never ever let myself get over that. I have always been a daddy's girl. Don't get me wrong, I love my mom dearly, but she has momma's boy (my brother) and I just have always been daddy's girl.
When he calls and says I miss you and love you sis. It just isn't the same without you here. I try to deter the conversation to talk about other things, but is just doesn't work. Why does this have to be so hard? Why did I think the move to Florida was best for our family? Why did I not think of other's emotions? Why am I so freaking stupid? All the Why's… that will probably never be answered.
Dad, I just want to say… I am sorry. I didn't mean it to be this way. You know I love you with all my heart and look up to you so much. I would never intentionally hurt you in anyway or make your life miserable. You have done so much for our family and was such a hard working man to provide for the family. This is your retirement years and life suppose to be enjoyable and not miserable. Will you ever forgive me Dad? I promise to make this right. I just don't know how right now, but hopefully I will see the light and God will steer me in the right direction. Please know the girls love you and YAY-YAY and they will never forget you. They talk about you all the time and I make sure to bring up the different stories you have experienced with them.
Dad please put chin up and let's get through this together. It's helping me write all this out too… even though the tears are flowing, its helping! Remember we are all here for you no matter what. Love your one and only girl!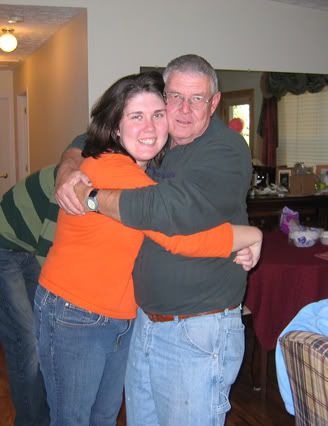 If making my dad feel like this wasn't enough, I have my step-daughter back in NC as well. Now you might think since I say step-daughter that we have a rough relationship. It's actually the totally opposite. Yes at first it took an adjustment period, but now we have the best relationship any step-mother/step-daughter could have. We talk about everything and she knows she can come to me for anything. My girls love her so much as well and miss her dearly.
I was on IM talking to her tonight and she said:
"like no lie if i never got another gift for Christmas in my life i would just be fine i miss my family so much"
That was hard to read that. What have I done? KK… this is to your big girl… I love you dearly and we miss you so much with your crazy self. Only 30 more days and you will be here and we can all party like there is no tomorrow. I am sorry for taking your dad across the states, but just know we thought this was such a great career move for him. You know I would never ever intentionally hurt you or make you sad. I only want to protect you and love you. You make us laugh, you make us cry, you make us smile just by all you do and the love you have for us. You know we want you here so much, but I know the schooling thing is once in a life opportunity for you. I'm so happy that you are sticking this out, but the other part of me is sooo sad that you can't be here with us. I'm praying God will show us the light on what to do so we can be one big happy family again. I love you missy mae and never forget that. Like I have always said we are just a phone call and airplane ride away ok? Missing you.. Love your second mommy!
See why such a heavy heart tonight? It helps so much to journal this and getting it all out of my feelings tonight. I love all my friends and family and thank you all for being there for me during this time. Life just wouldn't be the same without all of you in it and I mean that with all my heart.