Holiday season can bring great joy for many but also great sadness for many as well. The economy has took a hard hit in the last couple of years and many families are suffering. I know the pantry at my girls school has really suffered and they are doing creative ways to try and get it replenished. Some kids at the school will only get a warm hot meal while they are at school so it is on the shoulders of the school to ensure the kids have food to take home so they will not starve. This just breaks my heart. You hear about starving kids all across other countries, but this is right here in our own backyard. In 2010, 48.8 million Americans lived in food insecure households, 32.6 million adults and 16.2 million children. This should not be happening. We all need to rally together and put in a team effort to put food on these millions of peoples' plates. It isn't all about giving gifts this Christmas season, it is all about helping others.
Thanks to Kraft, we are able to help fight this hunger during the Christmas season.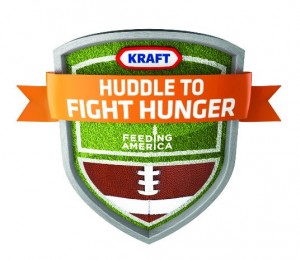 Kraft Foods' Huddle to Fight Hunger program is on a mission to donate the monetary equivalent of 25 million meals to Feeding America. To help reach this goal, Kraft Foods and their family of iconic brands are rallying around three things Americans are passionate about: football, food and family. In 2010 alone, Huddle to Fight Hunger raised 21 million meals through the support of passionate football fans and community members such as yourself.
How can you help? Glad you asked.
1. Please "like" the Kraft Food's Fight Hunger Facebook Page. Once you do, a meal will be donated to a food bank.
2. Play the 2-Minute Trivia drill to donate even more meals.
Kraft will donate up to 4,000,000 meals via online and mobile activities, as part of their goal of providing 25 million meals. Now, that is amazing!
Over the next 4 days, I am going to be sharing a tailgating recipe with you. Each recipe that I am sharing, Kraft is going to donate 1,000 meals to my local food bank. It is the least that I can do. What about you? Please do your part and share this post so we can get 4,000,000 meals served.
Chocolate Chunk Cookies
(adapted from this Kraft recipe)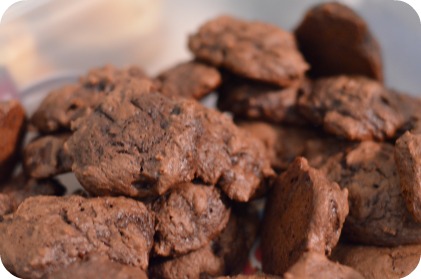 Ingredients
1 pkg. (2-layer size) devils food cake mix
2 eggs
1 cup MIRACLE WHIP Lite Dressing
1 cup BAKER'S Semi-Sweet Chocolate Chunks
Directions:
HEAT oven to 350°F.
BEAT cake mix, eggs and dressing in large bowl with mixer until well blended. Stir in remaining ingredients.
DROP rounded teaspoonfuls of dough, 2 inches apart, onto greased baking sheets.
BAKE 10 to 12 min. or until cookies are slightly firm to the touch. Cool completely on wire racks.
The cookies were a HUGE hit with everyone sitting around the TV watching football. Even the kids loved them. Now will you do your part and share this post? Thank you!
Disclosure: Kraft Foods is providing me a gift card in exchange for my participation in this program at no cost to me; however, all opinions expressed here are my own.