I just have to write about how I have got my oldest daughter Madisyn to eat all her lunch. She started a new preschool a month ago and she goes 4 hours a day versus the 3 hours a day she was going at her other one.
Since she is going the hour longer, they require parents to bring their childs lunch each day. I was trying to think how I could get my picky eater to eat her lunch at school. Madisyn now is my very creative child who loves unique creations and artistic…. sooo I set off to target to find something that would let me be creative with her lunch.
Here is what I found: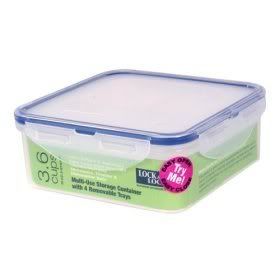 Airtight Food Storage Container – 3.6 Cup Square Divided Lock & Lock
What makes this so unique is, when you open the lid there are four little cups in there all the same size. This allows you to fill each cup differently and the child will only have to open the main lid instead of opening three or four different lids.
Each day I change it up to where she does not have the same thing each day. She comes home every singe day with all her food gone and I always get a "Mommy thank you for my lunch today" 🙂
I usually do a sandwich or some kind of wrap or roll-up of turkey or ham and cheese. She loves the natural peanut butter on melba toast too YUMMM. If I do the sandwiches, I always cut them in different shapes like squares, triangles, or circles. That's always a big hit.
Then I always have her one veggie a day.. the three she likes the best are tomatoes, cucumbers or carrots. Of course we do one fruit a day as well, her favorites are sliced pineapples, apples, and grapes.
With the fourth container I include either a salty or sweet snack. Her all-time favories are the Annie's Homegrown Cheddar Bunnies Baked Snack Crackers, Original, 12-Ounce Boxes (Pack of 12)
or the Annie's Homegrown Bunny Grahams, Chocolate, 7.5-Ounce Boxes (Pack of 12)
but sometimes I will do pretzels or tortilla chips as well as yogurt.
All of these foods let me change it up from day to day to where she does not get bored with same foods each day. She just cannot wait till she gets to school to see what I pack for her. Another great tip is drawing a little picture and putting I LOVE YOU on it for her to find :).
Anyways, I just wanted to let you know about this in case you were having a hard time getting your children to eat lunch. You can easily do this at home with them as well. I strongly believe when she goes to kindy next year that I will do the same, just so I can know what food is going into my little girl's body ;).