Help… go get the thermometer, check this mom's temperature ;). Ok ok ok… now that I have your attention. I really do not like cleaning my bathroom, but I have been tuned into a product that makes cleaning a lot more exciting.
I do want to say, I have not always been the best house cleaner, but as I am getting older and wiser I guess you would say… I am getting more picky about things not being organized.
For instance, I cannot absolutely stand any dishes to be left in the sink. I can thank my mother and father for that one. They would always make us wash any dish we would dirty up immediately, so now I go crazy if there is a dish left in the sink.
We have a playroom now for the girls, and I like for all toys to be in the playroom. At the end of the night, I go to cleaning so I can wake up to a nice clean living room.
Anywho… the bathroom has always been something I always dread. I try my best in there and I like for it all to be organized as well, but I have found something that I am so happy to tell you about. It is the Action Scrubber by the Scrubbing Bubbles.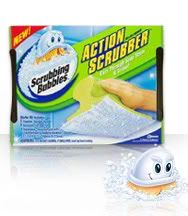 When you buy the starter kit, it comes with 1 flexible handle, 1 reusable storage tub and 4 disposable cleaning pads.
I personally hate seeing old sponges laying around, so when I figured out it comes with cleaning pads, I thought ok I can deal with this. I was really impressed by how clean it gets your bath tub and shower. I even used it in our bathroom sink.
What puts a big plus on is, you no longer have to clean with gritty chemicals, which allows rinsing away easily.
I will definitely be using this handy dandy tool in the bathroom much more. Click here to read more about it.
Tell me moms… what is your favorite cleaning tool for your bathroom?