Single Parenting, Packing up a House, Planning the Move, and Working the Business all wrapped into one moms world can cause so much craziness. Yes there are times I just want to give up and cry and not look back, but then I have to come to my realization that this is only temporary and IT WILL GET BETTER ;).
You know when I am stressed to the max and the girls are not being at their best, I have learned to just sit down and cool off and think of all that I DO HAVE. I can just sit and look at my girls and it makes life just throw away all the stress in my life and melts my heart all over again. Look at this picture I captured this weekend and you can see why just by looking at their faces my stress can be easily minimized.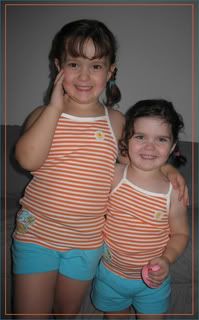 All this weekend the girls and I have been singing "You Are My Sunshine". They just love this song and will sing it going to bed and once their eyes light open in the mornings the words are coming out again ;). My two year old is leaning the words from her big sis so good. Please take a moment and listen and see what kind of big smile you will get. At then end you will hear "I Love You Daddy" because the girls talk to their daddy each night on the phone and since I was recording this over the phone Lyndsee just figured she was singing for daddy. The words will definitely tug at the heart. ENJOY!
I shall return to the madness…. 😉