This week at M's school they are having Spirit week. I always loved this as a child. Well today was Tacky Day AKA (let your kid dress themselves day).
M picked out her outfit and I just started laughing. I told her it had to be crazy and I think she did a pretty darn good job of it… don't ya think?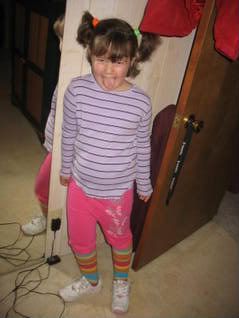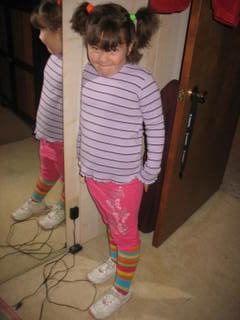 I just love her… She melts my heart over and over.
Also while I have your attention… M was sent a special Koala bear last week from Build a Bear. She just loved it from the minute she got it out of the box that evening. I didn't realize they have bears now for as low as 10.00. How cool is that? Also once you make your bear, you can go online and have a virtual pet at Build a Bearville. I was really impressed with the quality and as you can see below… it fit perfect in M's lap so she could snuggle with and have an after school nap.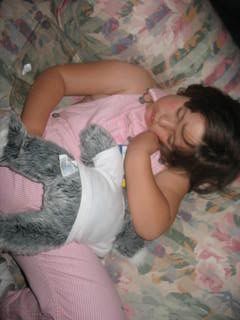 We would like to share with you and let your kid have their own very special bear. I have two 10.00 gift cards I would love to give to two lucky parents to give to their children. Leave a message below and I will draw two random entries on Friday October 31, 2008. Good Luck!