A new game for the Wii to get kids moving and having fun has been released this Fall. Who loves Kidz Bop? Oh my girls are big fans and shhh I am too! As I have said before on this blog, I love Kidz Bop because they translate the songs for the younger generation and make the songs suitable for the kids listening ears. All songs on Kidz Bop are sung by kids :).
The Kidz Bop Dance Party Wii Game will let kids of all ages dance their hearts out to 24 contemporary hits including an all-time fan favorite "Thriller".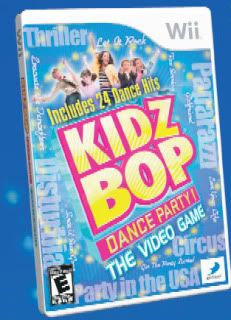 The game keeps the kids moving so it is a form of exercise essentially but the kids don't realize it is exercise because they are having so much fun. Kids are also encouraged to just have fun and succeed with no penalty for errors or missteps as they will receive helpful dance tips and tricks from Kidz Bops Kids, Dana and Valerie.
Each player will be able to create and customize their own character with super cool outfits, costumes, and hairstyles. The options are definitely plentiful. There are five different game play modes: Free Play, Challenge, Versus, Kidz Bop Shop and Dress-up. My girls do something different everyday and have yet to get bored with the game. They have been putting on dance shows for my hubby and I. They will make us invitations and have us come into the bedroom to watch their big dance recitals using the Kidz Bop Wii Game. The smiles that light up your kids face will be worth it all.
The best part that I liked about this game is that the players only need the Wii Remote. There is no dance pad required and the controls on the Wii remote are so simple allowing kids of the younger age group to be able to fully enjoy the game. My 6 year old has just as much fun as my 7 year old.
Overall, it is good and clean family fun!
Suggest Retail Price: $39.95
ESRB Ratings: "E" (E for Everyone)
WIN IT! We are giving away one copy of the new Kidz Bop Wii Video Game to one reader here at One Moms World. To Enter:
Leave a comment below telling us your favorite song as a kid!
For Extra Entries:
Join One Moms World on Facebook
Tweet About This Contest
Follow One Moms World on Twitter
Make sure to leave an additional comment for each extra entry. Contest will end October 31 at 11:59pm ET.
Congrats to comment 63 – Terry C! You are the winner 🙂
Disclosure: D3Publisher provided the Kidz Bop Wii game for our review and another copy for giveaway. All thoughts and opinions here are of my own.