As most everyone knows, my sweet and precious L is a huge animal lover. She will go as far as if there is an ant in the house, she will scoop it up with a spoon and run outside with it so we will not kill it. We had a mouse in the house and she wanted to make sure that my husband would not kill the mouse in the trap. Instead, she requested he catch the mouse and release it into the forest. She is a true animal lover.
Animal lovers of all ages will enjoy this new movie out for the Christmas season. It is such a good movie that you will watch over and over throughout the year.
From the creators of the #1 live-action, direct-to-video Disney Buddies franchise, comes "SANTA PAWS 2: THE SANTA PUPS," an all-new heartwarming and hilarious adventure starring a brand new litter of the most adorable talking Great Pyrenees pups!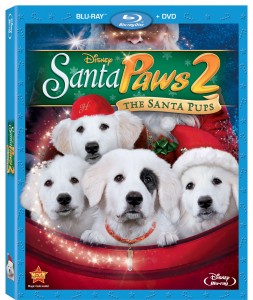 The North Pole has a new litter of playful pups! However, when the frisky foursome—Hope, Jingle, Charity and Noble—practically destroy Santa's Workshop with their frolicking, they realize the best way to prove that they're responsible enough to become Santa's Helpers is to show how well they can spread the Christmas spirit all by themselves. With help from a magic crystal, they start granting everyone's wishes. But their good intentions backfire when one unhappy boy asks that Christmas go away forever! With his wish impetuously fulfilled, and the joyous spirit quickly disappearing from the planet, Mrs. Claus and the pups have to find a way to reverse the spell—or risk losing Christmas forever!
Here is a sneak peek:
M and L sat down with me to give me their best parts about the movie.
L: I like when the doggie has babies. The pups learn the true spirit of Christmas.

Why would you recommend:

Because it is such a good movie for kids that love animals and see all about Christmas.
M: My favorite part was when they broke out of jail by tying a rope to an ice cream truck.

Why would you recommend: The movie shows if you have determination and believe, you will go far in life. I love it shows the spirit of Christmas.
This movie will really warm your heart and it shows with M and L's own words. I know we will be having popcorn and hot chocolate with the snow storm coming. A perfect match with his movie. Snuggle up with your kids and watch a good movie over the Christmas break.
Disclosure: We were provided with a copy of Santa Paws 2 in order to facilitate this review. All thoughts and opinions are of our own.