One of my favorite childhood characters is planning a return!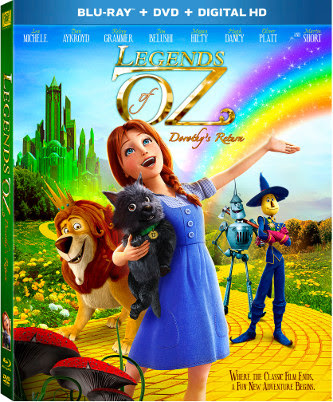 Kids of all ages will love this musical, animated journey back to the magical world of Oz that features a legendary cast, including Lea Michele from TV's "Glee," Dan Aykroyd, Martin Short, Jim Belushi, Patrick Stewart, Kelsey Grammar and more. A devious new villain, the Jester, rules over Oz and Dorothy must return from Kansas to rescue her old friends: the Lion, the Scarecrow and the Tin Man. Set to irresistible new songs from Academy Award®-nominated singer/songwriter Bryan Adams and featuring a host of delightful new characters, this animated return to Oz is sure to be a family-favorite filled with fun and laughs for generations to come!
This will be a fun family movie to kick back and enjoy for a Friday family movie night. Go ahead and start counting down the days till August!
It is rated PG and has a total running time of 126 minutes. I will post a full-review as soon as I receive the DVD.