I admit, I love doing messy projects with the girls, BUT it is nice as well to have some clean fun projects with them as well. So, when I was asked to review these two products, I was all giddy. You know I love to pass the word on to all my mom friends… (hey we moms have to stick together right?)
The first product was the Aquadoodle Draw 'N Doodle.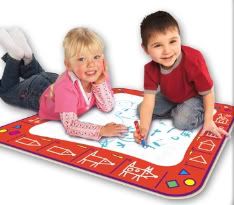 My girls love to draw. Thank goodness we are past the stage where they loved drawing on the walls. PHEW! We pulled this out one evening, and the girls had a blast drawing all the little drawings that are featured in the red part of the mat. All we had to do is fill the pen that comes with the mat with water. They girls could draw to their little heart was content and I didn't have to worry there would be a big mess with crayons or markers all over the floor. Also, the pen only works with the mat so you are safe from your child trying to color on all the furniture and walls ;).
The pen is reusable, so you can have fun with this mat for a very long time. Once the girls filled up the whole mat, all we had to do is lay it in a flat spot to dry. Once the mat dries, all the drawings disappear and you are able to draw more. My girls definitely give this a thumbs up. I do have to say it is a blessing for rainy days as well!
The second product was the Bath Blizzard.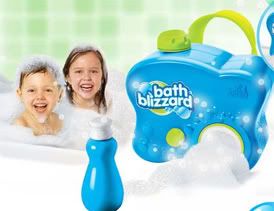 This has been soooo much fun. My girls have always loved bubble baths, but I usually just make our own bubbles each night during their baths. When I first seen this on TV, I was not sure what to expect. I was glad we were given the opportunity to try it.
It hangs securely on the side of your bathtub and all you need to do is turn the knob. Here comes the flow of bubbles and you get to hear the screams of delight from your children. My girls totally just lit up with smiles when they seen the bubbles start coming out. They both love bath-time, but I think this has totally made bath-time super cool now. It takes me a bit to get them out of the bath now ha ;). I do like that you can use any bubbles in the machine, so we can use our own safe blend of bubble mixture.
It is really durable and made well. I feel that it will last us a long time even with the girls pounding on it. We definitely give this two thumbs up!