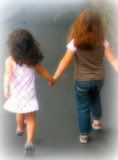 I adore this picture I took this weekend of the girls. It made me take a stop and think, now this is what life is about. Stop and enjoy the day, enjoy family, enjoy what God has given us either bad, good, crazy, or tiring. It is our life and lets be blessed.
Last week would indeed fall in the crazy category. Hubbs ending up have surgery Tuesday when we went for all his testing. We are hoping this heart implant monitor will give us the answers we need, to make sure his life is prolonged and he will be around for years to come. I do know, life does not need to be stressful and I am making sure that we do things  a LOT differently now to decrease all the stress that has been in our lives for the last year. The heart is a major organ in our bodies and we do need to take care of it!
Also last week, I gained two more titles to my name of "Mom". I am am proud soccer mom and a clogging  mom. Hubbs and I signed her up for her school league and she is having so much fun with it. My mom and brother signed up Madisyn for clogging. We are looking forward to see how well she does with it. She has been wanting to do clogging for so long.
We are going to be full on busy, but I like this, as we are seeing our children grow up to their own little unique individuals. I so much miss the baby stage, but am definitely looking forward to this new adventure in life.