We live by our budget each month. I check into our software daily to ensure we are not going over budget. Each week, I have a limit of $75 for our weekly groceries. Due to several factors in the economy, food prices are increasing at an alarming rate. We have to use coupons and purchase generic items in order to stay within our budget each week. I sit and do a weekly meal plan all the while ensuring we are staying away from high fructose corn syrup products. Is it easy? No, but it is definitely doable.
Thank goodness, Food Lion is helping us stay within our weekly budget. I have been a loyal Food Lion customer since I was a small child and would go shopping with my mom. Food Lion was also my first job. I was a cashier and got moved to Office Assistant very quickly during my high school days. So, naturally, I am going to give props since we go way back. It helps though with all the recent changes that Food Lion has went through in their stores.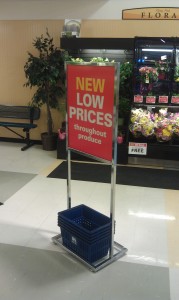 Food Lion has lowered their prices all throughout their store. They have also added several food items under the brand name "My Essentials"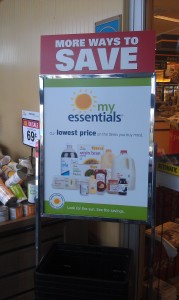 The My Essentials brand can be found on just about every food product that you can think of on the grocery shelves.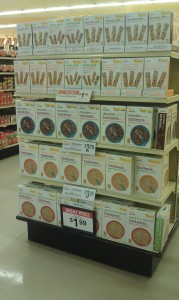 You may think since it is a generic brand, that the taste would be less than thrilling. This is actually the opposite. If you put the generic brand beside a regular brand, you would have a hard time telling the difference. My girls or hubby has yet to say a word about the food tasting different. I purchased all of the My Essentials items below this past week and none of the products have high fructose corn syrup. Huge score since you are receiving a healthier item minus the increased price.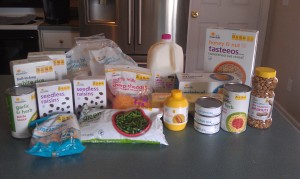 Food Lion gave me a $150 gift card to do my shopping. I came out of the store with a total of $158 spent. The grocery trip fulfilled all our grocery needs for the next two weeks. I was one happy mom!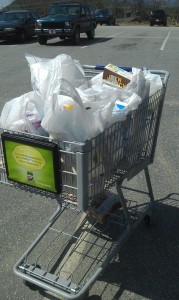 Overall, I am a very pleased customer. It did take me a while to shop because I was looking for the high fructose corn syrup in every product but I was able to come away with several My Essential items, several quality meats and lots of fresh produce. Take your time, remember your budget and keep your meal plan in your hand. You can shop for less at Food Lion.
When I came home from shopping, I actually whipped up an easy recipe for my Mom's birthday using two items from the My Essentials brand. Check out this easy German Chocolate cake that is so moist. It got raving reviews from everyone at the party.
YOU can experience the new lower prices at Food Lion.
GIVEAWAY
One lucky reader is going to win a $50 gift card to Food Lion.
Congratulations to Comment #5. Please check your email!
To Enter:
1. Leave a comment to let us know if you have tried the new My Essentials brand at Food Lion.
Extra Entries:
2. Tweet this post
3. Subscribe to our feed
4. Follow @OneMomsWorld on Twitter
5. Follow @FoodLion on Twitter
Contest ends April 1, 2012 at 11:59pm ET.
Disclosure: I participated in a campaign on behalf of Mom Central for Food Lion. I received a gift card and product kit to facilitate my review. All opinions and thoughts are of my own.