I just have to brag about my big 4 year old. That's alright once in a while heh? My little girl never ceases to amaze me and she was just so proud of herself today!
I went to pick her up at pre-k today and was met with the biggest smile ever. First off she got another stamp… she has not missed one day yet of getting a stamp. YOU GO MADISYN! Mommy is definitely very proud of you (now hmmm lets do that at home too ok? hehe ;))
But the stamp, was just a tiny bit of the equation… she ripped open her backpack and hurriedly gave me a piece of paper. It had her name where she wrote and where she practiced the letter A. See…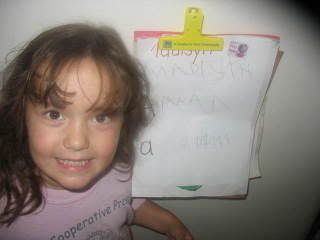 She has been writing her name for a while and even though I was proud of her for doing that as well, do you see that top sticker to the right. Yeppers you read right.. it says Star Student! Madisyn was so happy and excited about this and of course mommy grabbed her right up and gave her bunches of kisses and wouldn't quit hugging her. I had already got her a surprise out in the car… so I said ok lets hurry and mommy has a special treat for you outside. She takes after her mommy here ;)… She loves her some starbucks and our starbucks here has the mini cups so I got Madisyn one of the Blueberry Frappuccino. She was jumping up and down when she saw it. YAY. She made mommy's day and I made her day.. definitely a win-win situation :).
She had me take a picture of her award and she said mommy put that on your website, so I couldn't let my big girl down!!
I also wanted to do a quick picture. When Madisyn comes out of her preschool everyday, both girls when they see each other run and do this: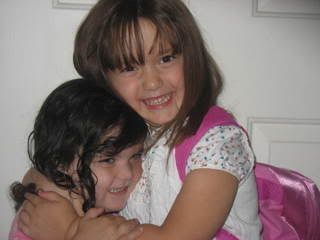 Now that's priceless right there 😉 Thanks for letting me brag on my Madisyn.